We caught up with Matty Took and Harry Stewart-Weeks to pick through some records and talk about their upcoming shows in the Europe.
For those of us who have had the pleasure of listening to Brit Pop/Indie Rock outfit PLANET, it's not much of a surprise to hear that the Sydney four-piece are heading over to tour Europe later this year in support of DMA's. Their tunes are infectiously catchy and their live shows are known for facilitating huge sing-a-longs that can be heard from around the corner, and so it's no wonder their appeal has travelled across continents.
By the sounds of things, jumping on board for the tour was a no-brainer. "We've been talking about the possibility of it for a while…. It kind of all snapped together quickly. We always said if we got the chance to get over to the UK and play good venues to decent sized crowds, we'd just jump on it and worry about everything else later," Harry says.
Their tune 'Save.Sold' (which dropped last week) is the second single from their forthcoming EP due in May, and represents all of the things that make these guys irresistible for punters – a chorus that sticks with you from the first listen, catchy guitar melodies and an emotional urgency that grabs you. We definitely recommend giving it a few spins before you check them out live, as you don't want to be the only person that doesn't know the words.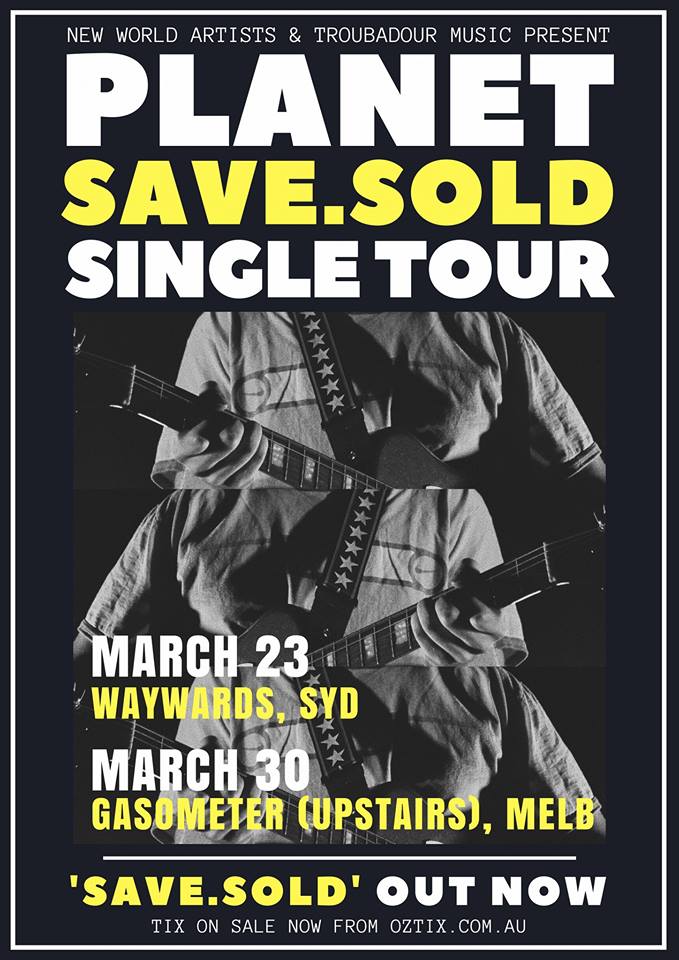 You can catch PLANET in Sydney (tickets here) and Melbourne (tickets here) this month before they jet off to Europe, and check out the wax pizzas that get them cooking below: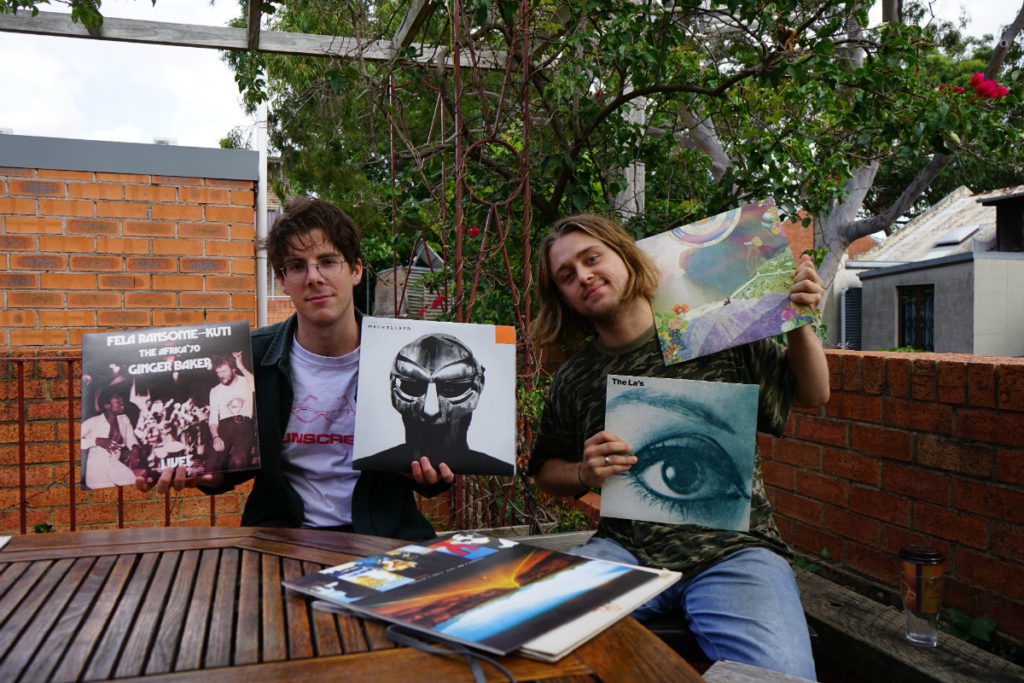 Fela Kuti And The Africa 70 With Ginger Baker – Live!
"If you talk about Afrobeat most people will say obviously Fela, and The Africa 70, the band that he played with, has some crazy musicians like Tony Allen. For me, he's the dude. The way that he blended traditional African drumming and those rhythms with western style Jazz elements was incredible."

"Ginger Baker was a Jazz musician before he joined Cream. He hated rock music, and I think that's part of the reason Cream fell apart. There was a lot of egos in there, and Ginger Baker never really saw himself as a rock drummer so I think he resented playing the blues and being so popular for it. It's a good introduction into Afrobeat," Harry says.

The La's – The La's

"I bought this guy from eBay. It's probably my most prized possession in terms of records. I'd been looking for it for so long, I'd missed out on buying it two times and on the third one I was like "Fuck, I have to get this." I set an alarm at 5:00am in the morning and waited right until the end and swooped in. It's great Pop music. He [Lee Mavers] was such a perfectionist," Harry says.
"He recorded it five times and he wasn't going to release it, but the record label released it against his will. He has perfect pitch so he couldn't listen to it back without finding something wrong with it and he kept recording it and eventually the record label was like, 'Fuck it' and just picked one and released it which was this version," he adds.

"In the era of 90s Brit Pop, these guys were a big part of it," says Matty.
Madvillain – Madvillainy

"For me, it's one of the best Hip-Hop albums. The production on it is amazing. It's got all the skits from old cartoons that Doom loves to do, like from Fantastic Four which I think is where 'Doom' is from. It's from Stones Throw, a lot of record that you can buy nowadays were issued on CD first and then since the vinyl resurgence, they've been putting them onto vinyl to make some hipster dollars," Harry says.
"For me, it's two people at the top of their areas in terms of the way DOOM puts words together, and the flow, and the way he can say something and you think it's gonna go one way but it goes the other way. The production from Madlib is amazing, really bouncy… it's just an extremely well put together album," he adds.
Night Moves – Pennied Days

"I love this one… it's a nine track album. Harry showed me a couple of these songs, and straight away I was just like, 'Fuck! This is incredible.' Such great melodies, such a great voice. Good Pop, real Psych-y, reminiscent of Fleetwood Mac but still with hip-hop beats. The last track on the album, 'Only To Live In Your Memories' is definitely my favourite. Very cruisy, very cool," Matty says.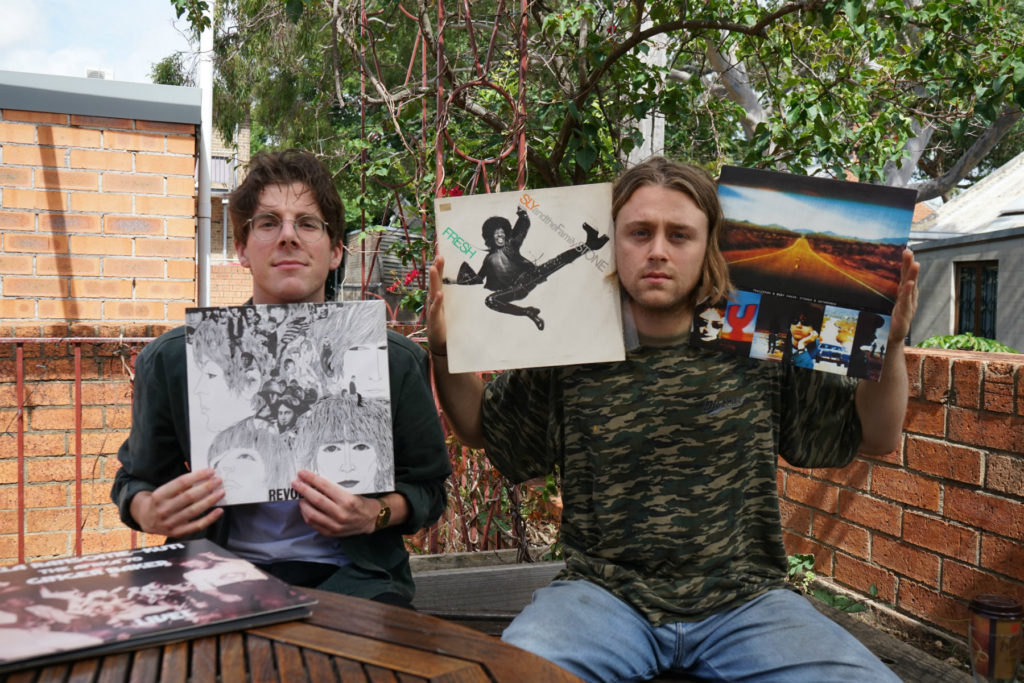 The Beatles – Revolver
"I've got this memory of when I was really young on holiday with my family. We were getting the Chunnel train over to France with my Dad. I think I was annoying Dad, so he got his iPod out and put the headphones on. I would have heard The Beatles before but that was the first time I 'listened' to them. I think everyone has that kind of memory of when they first heard The Beatles. This was the start of where they decided they were over touring and playing live, so they were taking all these liberties and not worrying about having to recreate it live, which would be really liberating," Harry says.
Sly & The Family Stone – Fresh

"My Dad used to DJ on the university radio, and he must have bought this back in the 70s which is why is says $2.95. I used to always listen to it in the car, so it's a bit nostalgic for me as well. Some of the best musicians ever in one band," Matty says.

"It's a good balance between pop music and glam. It's the type that you think would be so simple until you go and try and play it yourself then you're like 'Fuck, that's actually really hard,'" Harry adds.
"Fly kicking on the cover of the record is pretty badass. You can hear from his voice that he would be able to fly kick," Matty says.