Images via Eluera and Maya Luana //
'Sixth Sense' comes with a retro-inspired video that will make you wish the '80s were back.
Sydney rising pop sensation Eluera has been dropping a steady string of tracks since 2017, cementing herself as one to watch, and even attracting the attention of Sir Elton John (who casually had her 2020 track 'Moderation' on repeat). With each release, she's gone from strength to strength, carefully refining her incredibly addictive sound. Her latest, 'Sixth Sense' – out tomorrow – is no different.
In what is becoming the Sydney artist's signature approach, 'Sixth Sense' manages to navigate the fine line between honest and melancholic introspection and playful house-pop production, with Eluera's magnetic voice at the centre of it all.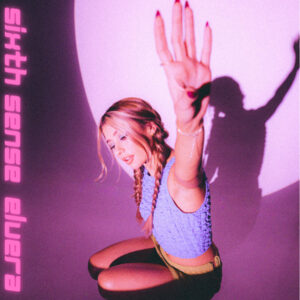 Speaking on the track Eluera describes how the song is about "dealing with a certain type of person over and over, to the point that you can predict their next move" – yet rather than being victim to this behaviour, 'Sixth Sense' explores what it feels like to finally take back the power and give the person a taste of their own medicine. 
The track is accompanied by a video made by up-and-coming Sydney director, Maya Luana, who you might recognise from previous work with Lola Scott, among others. The clip, which took inspiration from classic '80s music videos and colourful retro effects, interprets the message of the song in a subtle, yet powerful way by playing on the concept of omnipresence.
https://www.youtube.com/watch?v=yhw86eObpjw&ab_channel=ElueraMusic
"Constructing all these versions of Eluera created an essence of omnipresence," Director Maya Luana explains. "The omnipresence in this case being the idea of knowing when something is wrong in a relationship and analysing it from multiple viewpoints to make sense of what is really going on."
Following her recent collaboration with Sydney singer-songwriter and producer Chris Lanzon on the track 'June', Eluera is set to finish out the year with a guest appearance on Lanzon's co-headline tour with Eliott at Sydney's Oxford Art Factory Gallery Bar on the 7th of December. Tickets available here.
In the meantime, pre-save your copy of 'Sixth Sense' here and check out our interview with Eluera below.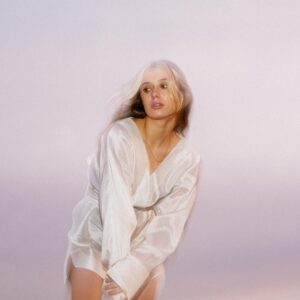 Hey Eluera, firstly congrats on your new single 'Sixth Sense'! How are you feeling right now?
Thanks so much! Super excited to have 'Sixth Sense' out, has been a big buildup to the release :)
You have this knack for wrapping up melancholic themes in totally feel-good production – and 'Sixth Sense' is no different. How do you navigate the line between those two emotions? Can you talk to me about the process of making 'Sixth Sense'?
I get a weird sense of satisfaction from writing about really sad themes and making them sound less sad than they are. I guess it's similar to how I use humour to make tough situations less overwhelming. So that's what I tried to do with 'Sixth Sense.'
I really wanted to make a fun house-pop track that day and it was the first time I had ever worked with Oscar Sharah who produced it, and he nailed the vibe instantly. I had the title 'Sixth Sense' in my notes but wasn't sure exactly how to incorporate it into the song, it took a little while but as soon as we got that down the whole song flowed pretty quickly. I had been in a bit of a songwriting rut for a couple of months before this, so it was so nice to finally make something I was happy with again.
View this post on Instagram
You made an incredible, retro-inspired video for 'Sixth Sense' with Sydney's Maya Luana. What were some of the influences you drew on?
Thanks so much! Maya is an incredible talent, we pooled our ideas together but mostly drew on classic '80s aesthetics and nostalgic pop. I love '80s-era music videos of Olivia Newton-John and Madonna and the use of oversaturated colours and prints, so I really wanted us to emulate something similar to that.
Can you talk to me about the concept? What was it like working with Maya?
We just wanted to capture something fun and simple to compliment the house-pop production of the song. Working with Maya was a dream, we shot both the press shots and music video in about 6 hours. She has so many great ideas and is insane behind the camera.
What does your songwriting process look like? What's inspiring you at the moment?
Usually I start songs at home on my bed with my guitar, it's very stream of consciousness in the way that I write my lyrics. Most times I don't even realise I am feeling a certain way until I come back and read what I've just written. Life is a little bit chaotic at the moment so that is giving me a lot to write about. I'm loving the band Boyish and Chappell Roan.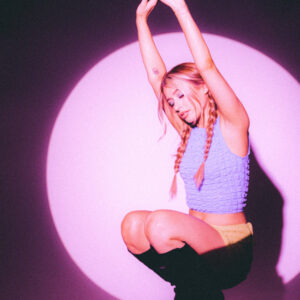 Your songs often explore the intricacies of love and heartbreak. Who's your favourite couple in film/pop culture/history and why?
My favourite couple is definitely Tom and Summer from 500 Days of Summer. Their relationship is definitely super toxic but so beautiful at the same time. I definitely relate to Tom a lot as he is a completely hopeless romantic.
If you were stranded on an island and could only listen to one song for the rest of your life, what would it be?
Silver Springs by Fleetwood Mac.
What's your best-kept secret?
That's a secret I'll never tell xoxo
What's next on the horizon for Eluera? Can we expect an EP sometime soon?
Supporting Chris Lanzon and Eliott's show on the 7th of December and have been working on an EP for next year!