Images by Dougal Gorman //
If you've been enjoying having your ears caressed by the wispy baritone of Rik Saunders every Sunday at 10 pm as he sifts through vinyl with his favourite Sydney artists on the 2ser radio show Heavy Demo, we've got some good news for you. Actually, even if you haven't been listening to heavy Demo (and you really should be), we've still got some juicy news for ya: Heavy Demo Volume II is coming this weekend.
This time the lineup, which has been meticulously curated by Saunders, will feature none other than the Godfather of Dolewave, Craig Dermody in the form of legendary Melbourne outfit Scott & Charlene's Wedding. He'll be joined by formidable multi-instrumentalist Moody Beach, rising Newcastle post punk lords Dust (who'll be fresh off a Euro tour with Hockey Dad), former Gerling frontman Darren Cross, and Antenna, the new band from Royal Headache's Shogun.
https://www.youtube.com/watch?v=77NkM6hVfGs
Plus there'll be a slew of DJs including DJ Jen (Tee Vee Repairman), Yutts (2SER), Sam Wilkinson, Dead Witch, Debaser DJ's (Oscar Byrne 2SER). What more could you want? Maybe the opportunity to win a refurbished Audio-Technica turntable model? Fuck it, they're throwing that in too. Just buy a pre-sale ticket right here to go into the draw.
https://www.youtube.com/watch?v=sKB_CmoNKfU
Heavy Demo Vol II will be happening at the House of Music and Booze this Saturday from 5pm. Don't miss it.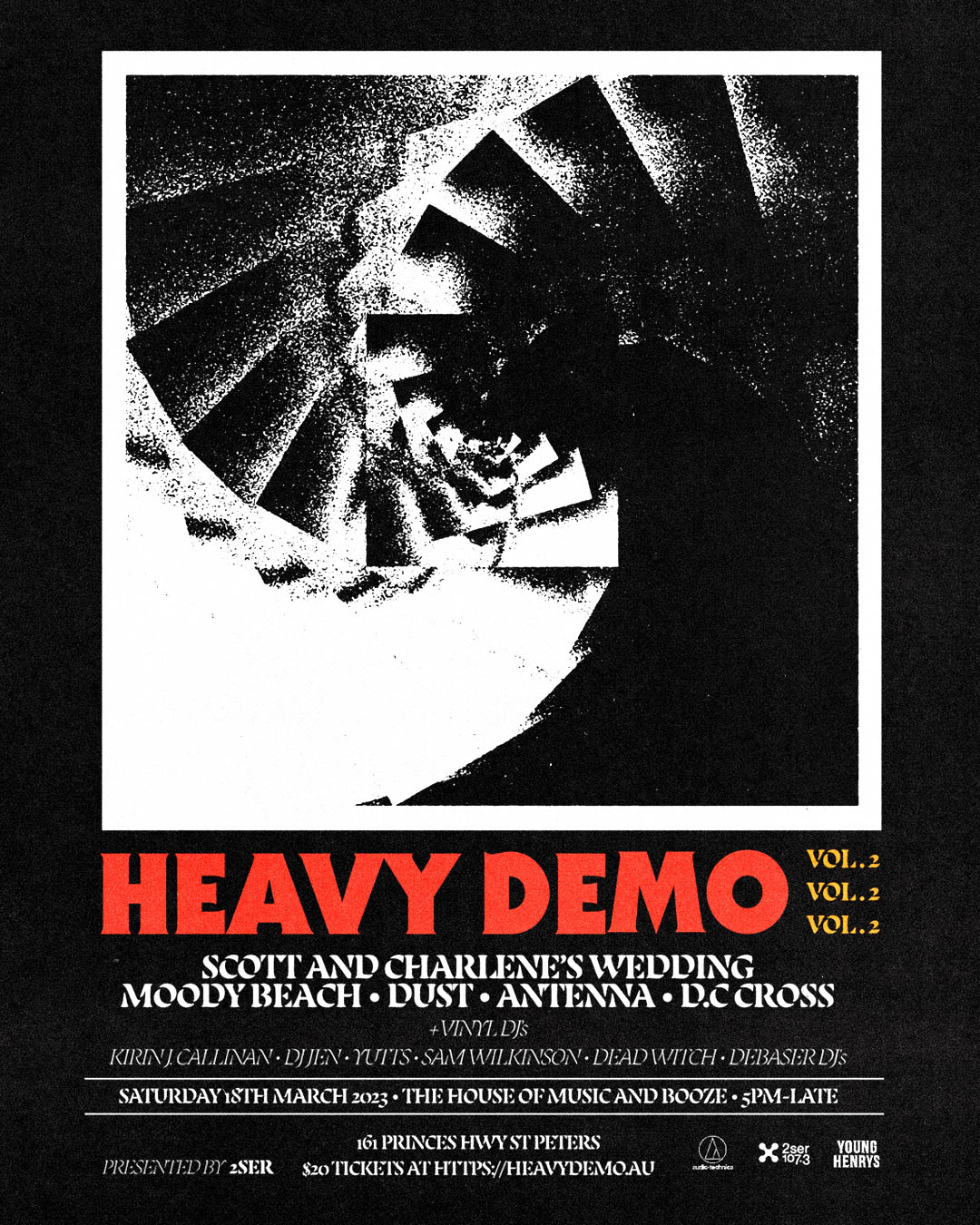 Poster by George J Gillies //
Note: Kirin J Callinan will not be performing.