If Gumby has a MetaMask, you can guarantee he's got a Clayling in there.
Or would that be a little weird, like a human collecting computer-generated renderings of other humans? Either way, the first thing you notice about NFT project Claylings is the nostalgic throwback to the claymation shows that practically raised us children of the 90s. Then you notice the cool individual traits such as third eyes, fangs and weapons. And then, before you know it, you're purchasing one for your own collection.
Launching last year, the project's 4040 pieces sold super fast, with Breaking Bad's Aaron Paul notably getting in on the action. And the road map is certainly unique, with an animated series (trailer below), toys and more on the way. Read more about the project below with our interview with artist/animator Robbie, and follow the links for their OpenSea, Discord & Twitter.
https://www.youtube.com/watch?v=RDPGtbPiovU
Where did the idea for Claylings come from?
M1 (our founder) and I had this idea that NFTs are somehow reminiscent of the childhood joy of collecting stuff. We wanted to enhance this feeling by making a collection that calls to a form of nostalgia by borrowing elements from childhood movies, toys, pop culture. The choice of clay, inspired by claymation films such as Wallace & Gromit, Pingu, Nightmare Before Christmas etc, was also aimed in that direction.
When did you initially decide to step into the world of NFTs?
I met M1 back in art school in 2016. Since that time we always wanted to collaborate on a project but never got the opportunity to do so. Being both involved with crypto prior to that we saw in NFTs an opportunity to merge two worlds we knew and loved.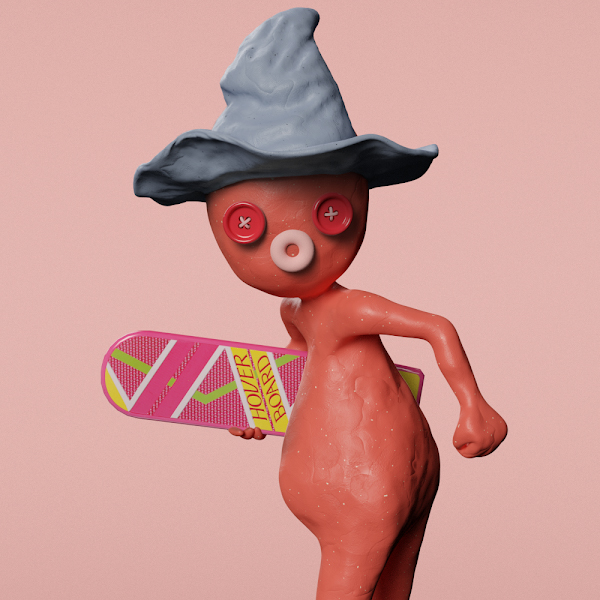 Claylings has grown exponentially in a short time. How do you feel about this success?
I think the best part of this success is to be able to get feedback on our work from thousands of people. As an artist, this is something I could only have dreamed of. Now it's what motivates me to always do something that pushes our own boundaries, because to see the community talking about the content we produce, to really be able to interact with them as a creator is truly the best feeling there is.
Do you feel like you have a bearing on what it is about the pieces that have resonated with the NFT community?
One thing that I see people talking about regarding why they love the Claylings is how they all tell a different story. Of course, the elements are randomly associated, but each trait has enough character to be seen as a clue, and the association of them through some kind of apophenia creates a narrative.
In my view, the second important point is hapticity, not in the technological sense but in the philosophical one. When haptic is opposed to optic and means the will to emulate the sense of touch without physically triggering it. We achieve this goal through realistic or even exaggerated materials and lighting. We know these images are not real but we can easily imagine how they would feel in our hands without even having to think about it.
That's something I haven't seen much in 3D NFTs, and I believe that's what differentiates us from the rest of them
With a Claylings movie just around the corner how exciting is this to see it come to life with the trailer and all the responses online?
Getting such positive responses to our animated series teaser felt amazing. We've been talking about this for months, working all day and every day on this without being able to share much of the actual footage with the community.
We know this can be difficult for them but we really don't want to come up with something that's a work in progress or that we aren't 100% proud of because it would ruin the effect of surprise by spoiling too much in advance.
But yeah, I feel like it was reassuring for our community. Even though most of them are very, very understanding regarding that matter, they've now had a glimpse that the quality we're aiming for is proportional to the time it takes.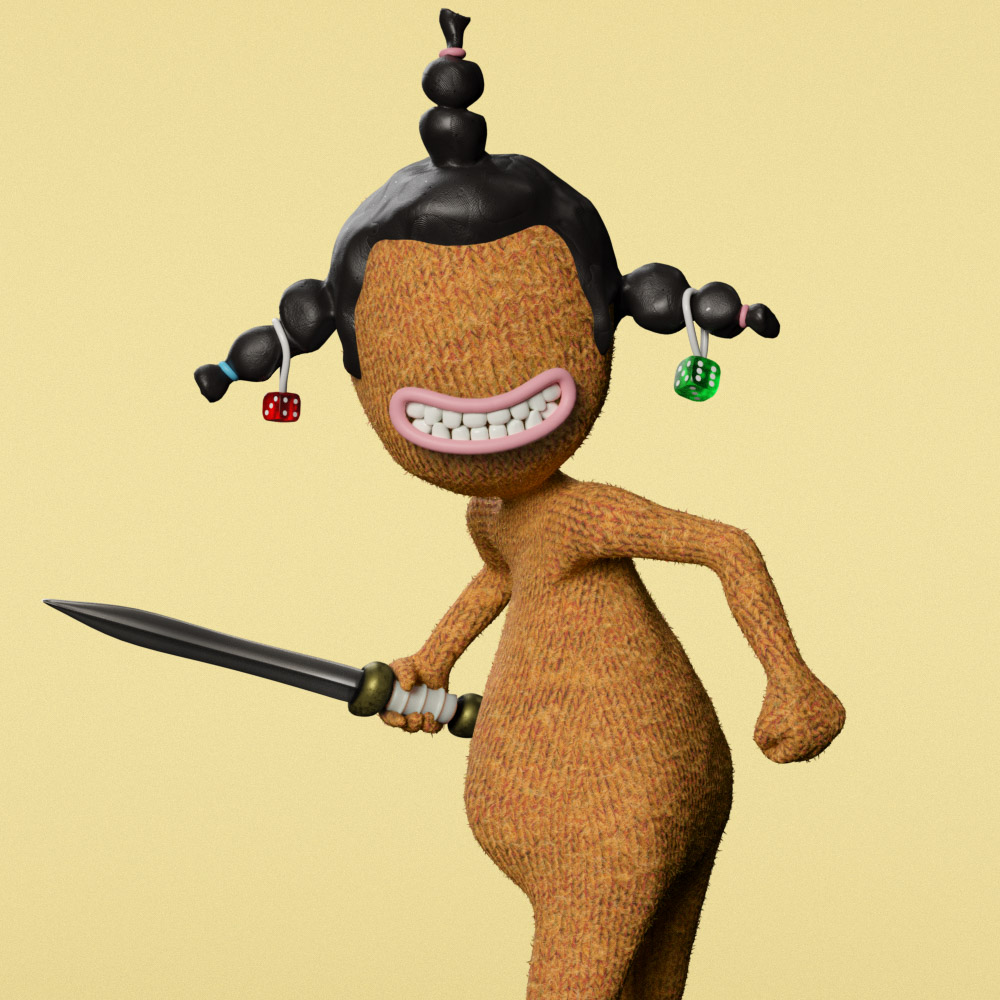 With so many cool characters in the collection, do you have a couple of personal favourites?
They are all so different it's difficult to pick a favorite! Also it may seem strange to say but I have a lot of emotional attachment to a lot of them. Like the one I'm using as a profile picture on discord and Twitter is a very simple one without any particular trait but I've grown very fond of it. I'm very proud of the 1/1 as well, categorized under « hidden » in our collection and all made with love!
Where do you see the future of NFT art leading to?
I feel like we're still very early to the party, particularly in the relationship between NFTs and the entertainment industry. The interaction between the community and the creators is unprecedented and could lead to wonderful things regarding how we approach filmmaking, video games etc… I don't have enough time to be involved on Twitter and such as much as I would like to, so I'm not able to have a very precise opinion on the future of the space in general, but I'm excited to be able to live through those times!
I can only imagine the mammoth effort that goes into a project like this, tell me about the experience.
Indeed we've had ups and downs. To be honest I believe this is one of the most intense experiences of my life (I'm still young, but still), and it's not a one week thing, or one month, it's like a long-term thing we are building. I thought I'd want some holidays or something but actually, I get bored if I don't do anything. After doing this advent calendar thing in December where we released a piece of content every day until Christmas (a very draining thing to do). M1 and myself were supposed to take a few days off, but as soon as we finished it I found myself working on the animated series pilot because that's actually what I want to be doing.
How important is the community in the NFT world?
The community is everything. We are very lucky to have a very strong core. Even in December when the volume was low, every day there was activity in the chat, people talking about their lives, about clay, about the upcoming things. We've gotten rid of a lot of 'paper hands' during the past few months and what's left is family, who stay for the long-term vision and not for the flip, and of course, they are the most positive people to have around.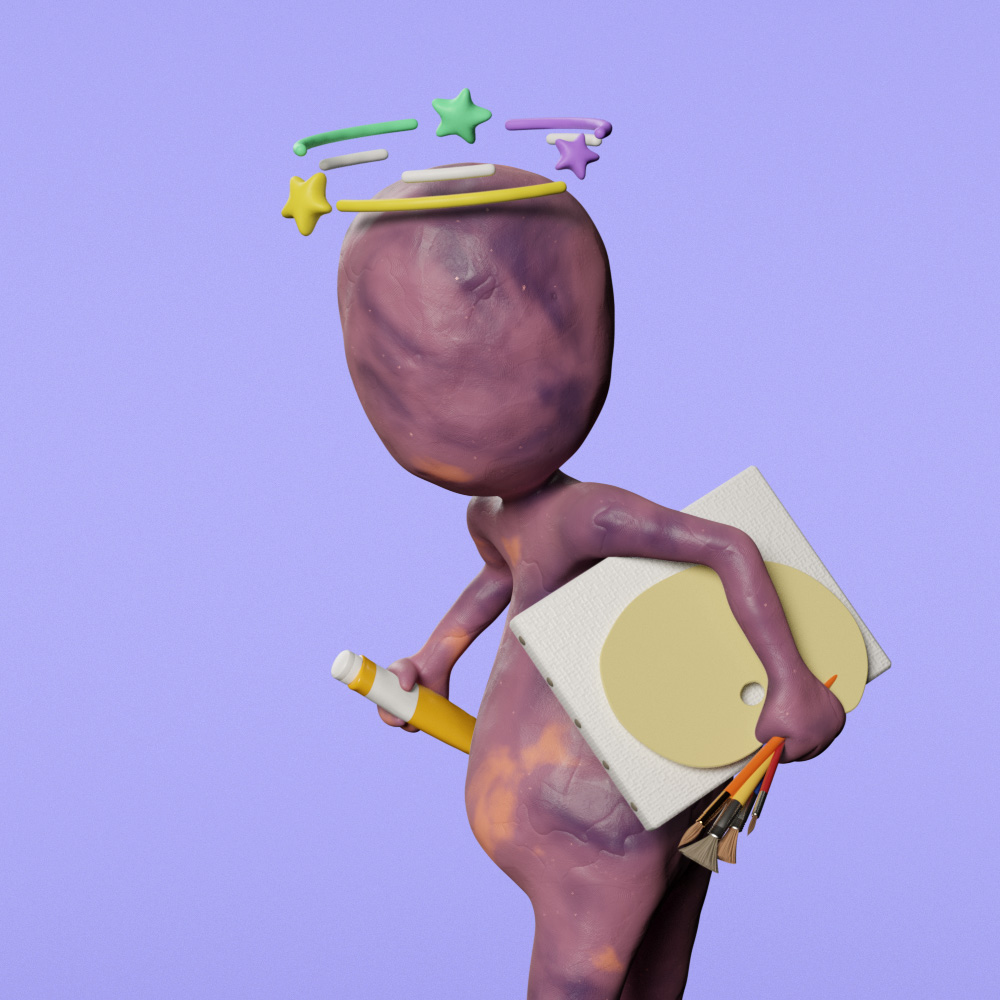 What NFT projects have inspired you?
As stated earlier I don't spend enough time researching NFTs lately being completely invested in ours. However, there is this project Super Metal Mons that I adore. They are mini figures created using GAN (generative adversarial network) and even though they are aesthetically very different from the Claylings, they still share the 'toy-vault' effect. Since they are generated with a database of actual mini figures we can still see remnants of the original ones in them, making them feel familiar, nostalgic and playful.
With NFT projects that truly grow in value there are many extra utilities and exciting drops on a roadmap, can you give us an insight to what Claylings will be doing? (without giving too much away)
With the Claylings the nearest goal of the roadmap is the production and diffusion of our animated series.
We want to bridge web3 and mainstream media. We are seeing entertainment brands like Disney, Marvel, MGM etc coming to NFTs and the Metaverse, we want to do the opposite by broadcasting our NFT-born animated series to a broader audience. They may not even really understand what an NFT is by the way, but I believe that's where it gets interesting. New eyes, new ideas will make the space even richer.
There are some NFT projects such as BAYC, Cool Cats, Vee Friends, Damien Hirst, The Currency and CyberKongz just to name a few what would it mean to Claylings to be sitting up the top next to them.
To be sitting next to them would essentially mean we would have so much more to do and that'd be awesome! We have a lot of plans for expanding the Claylings brand, which would also mean more budget for the production, working with more people and big names of the industry.
If you could choose five (more) celebrities to own and promote that are yet to dive in, who would you choose?
I'm already so happy with the one that has joined us. I called my mom to tell her Aaron Paul from Breaking Bad's first NFT was a Claylings (because I'm a fan of his myself) and the fact that she knew about him and was excited already means so much! I feel like with the genre of the animated series, it'd be really cool to have actors from famous sci-fi films joining us on this journey.
Time goes fast in the NFT and crypto world… where do you see your projects in five years from now?
In five years, so much could happen in that time! My wish is that by then we will be an established animated series both in the NFT space and traditional TV, with multiple seasons. Toys and merch are coming later this year but we would have more of these. Since the moment I designed the GM4040 (the Claylings spaceship from the animated series) I've wanted it as a toy! There are infinite possibilities and it's so exciting to think about these.