When it comes to Aussie outback legends, few have illuminated the minds of punters like drop bears.
Usually, the fury fellows have been regulated to slurry pub talk and hushed high school camp whispers. However, the trio of Nat Daddy, Rhys Kent, and Stealth Smiff is here to change that. After the 2019 bushfires, the boys witnessed firsthand the devastation that laid waste to wildlife habitats of Australia's East Coast. Invigorated to help out, they combined their unbridled enthusiasm and investment in the crypto space to create the Drop Bears, a collection of generative art on the ethereum blockchain. They have made over 10,000 manic marsupials in a short time, each adorned with their quirky personalities and outrageous fashion choices.
We caught up with founding member Rhys Kent to talk about everything Drop Bears!

The initial idea was spurred on by the disastrous effects of the 2019 Shoalhaven bushfires. What inspired you to utilize cryptocurrency as a way of lending support?
The initial idea was creating our own NFT project. Nat, Tom and myself have all been involved in NFTs for 12-18 months. We are all considered 'early adopters' within NFT communities. The idea started off joking about how together, we could create an NFT project that is far greater than 90% of the new projects being pushed out every day. Straight off the bat our initial idea was the urban legend, Drop Bears!
Not only did the 2019 black summer bushfires force us to evacuate twice during the new year but it decimated the koala species. It dawned on us that not only can we launch our own NFT project, but we can use percentages of our profits to make large donations towards the nearly endangered Aussie icon, in an attempt to give koalas a brighter future.
We all jumped on call, even though we live 5 minutes from each other (covid) and discussed the potential. Throwing jokes around about how bogan & degenerate we could make these koalas which would be immortalised on the blockchain for the world to buy/sell & trade.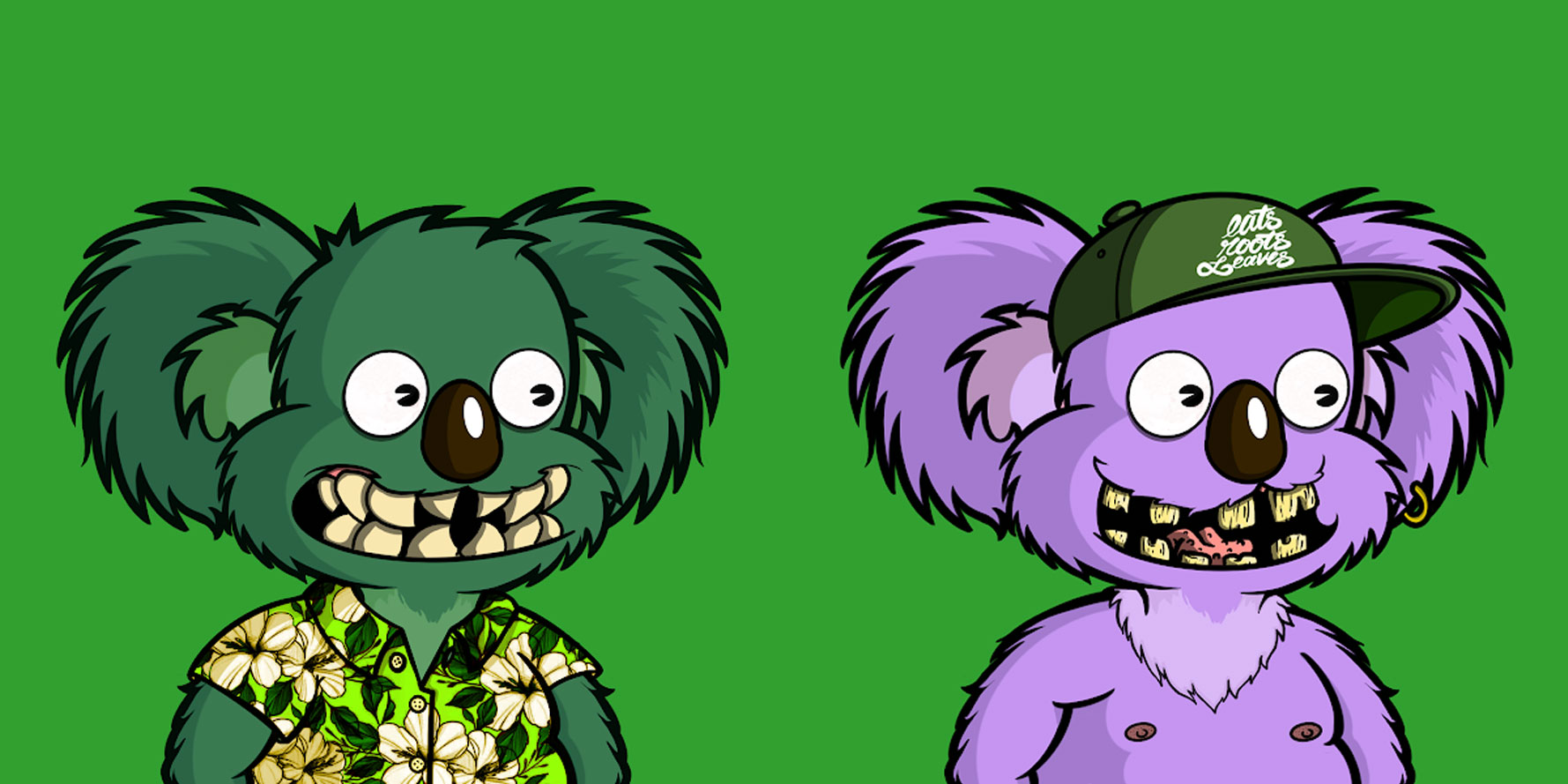 When the Drop Bears debuted, do you remember the initial reaction from the NFT community?
Prior to releasing, we had shown friends within these NFT communities that we were big parts of; the initial reaction among those friends was joy and laughter, even those who weren't Australian.
Once we opened up to the public, we started gaining traction incredibly fast. This was a project like no other and it was evident to those who joined the community. Australian's were flocking into our discord just to throw some banter around. Talk about VB longnecks, winnie blues, bunnings snags, gatorade saxophones and zinger boxes. Soon we had people worldwide thinking everyone was hostile towards each other before joining in throwing banter themselves, many people said "this is better than Netflix".
The reaction to the Drop Bears themselves was pretty amazing. The art was something we were extremely proud of; our artist 'Bulging Idiot' perfectly captured what we had envisioned. Australian traits from Baggy green, golden durry crown, Bunnings aprons, Winnie blues tucked into shirt sleeves, wiggles shirts, Vegemite shirts, rainbow paddle pops and many more. Everyone who came across our Drop Bear community always had something to comment on.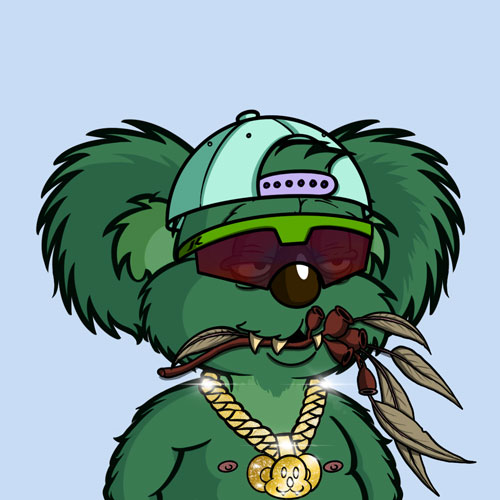 Each koala is decked out in a slew of iconic Australian fits. What is the process of figuring out what each koala will look like?
The process of creating our NFTs wasn't to create 10,000 individually… That wouldn't be feasible. Instead, the process was creating 1 template + 100+ traits varying from hats, eyes, mouths, ears, shirts, furs and backgrounds. We then have a smart contract solidity developer who writes code in python to create a randomly generated script that allows the contract to pull a trait from each category, when the contract is interacted with via the minting function.
The NFT community has gravitated towards your inclusion of the ever-charming larrikin humour in each koala. What do you think it is about that Aussie energy people find so undeniable?
Australians are well loved throughout the world, the NFT space is no different. We have new people jump into our discord community daily asking what certain terms are and then adapting them into the way they speak. The larrikin humour and banter centred around Aussies gives us a fun comedic value to any community worldwide.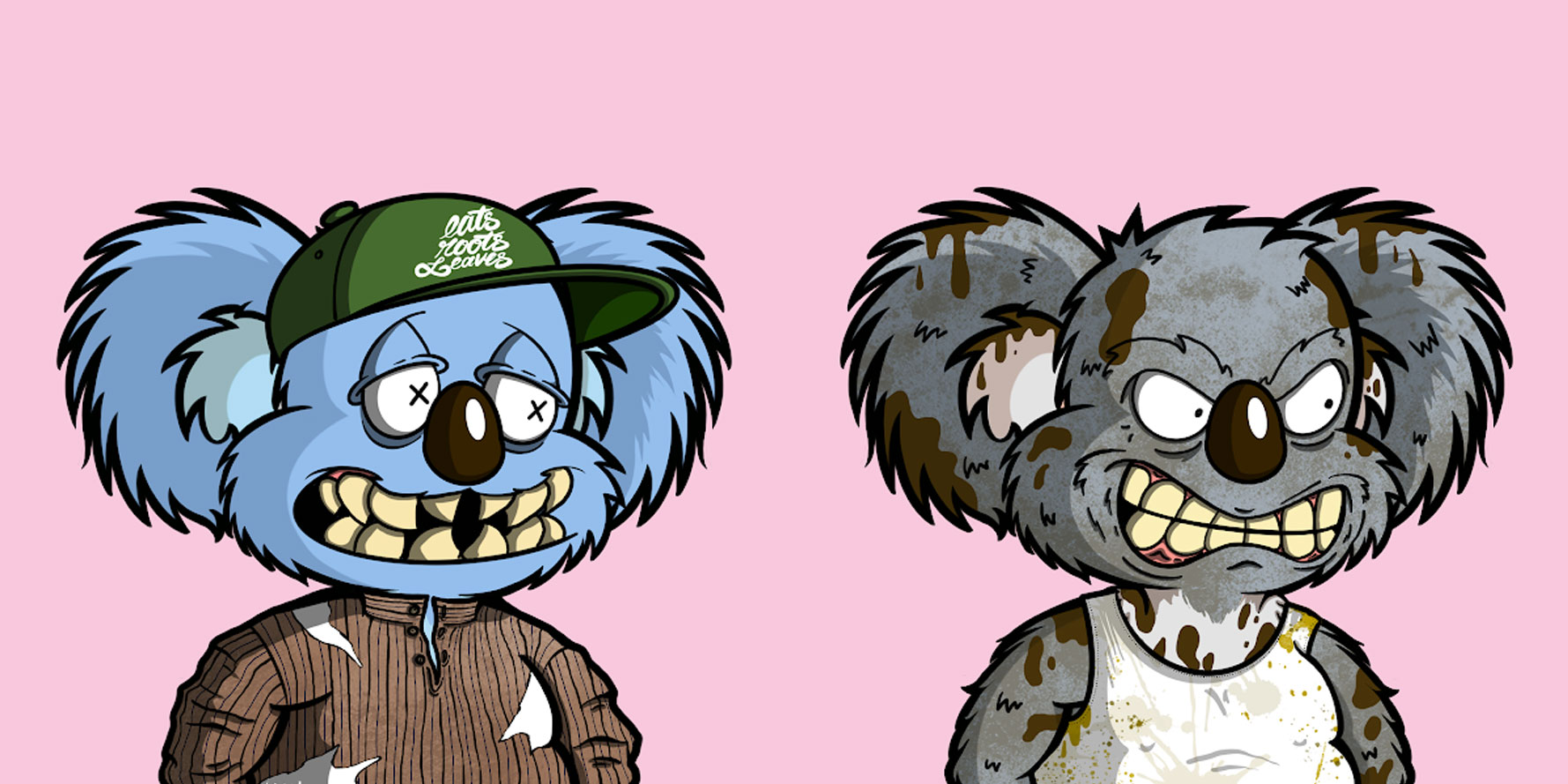 To date, you guys have generated 10ETH ($50,000) in donations towards Koala/ wildlife causes. Firstly, how does it feel to have reached such a great goal? Would you like to see philanthropy more integrated into the NFT space?
We had actually made ties with Port Macquarie Koala Hospital prior to launching our project to gauge their interest in receiving a cryptocurrency donation. The team had been through a lot, so understandably meant the world to them. It wasn't until I spoke to Sue, president of the hospital, that I really understood where this money was going to go. Above adopting all of the koalas in their care, the funding was going towards the world's first wild koala breeding program alongside Taronga Zoo. This was mind boggling to the team, not only were we helping endangered koalas but also giving the potential to save the species as a whole. This is something I will tell my grandchildren about, an achievement that we made by selling jpegs online. 40% of our secondary sales fees will continually go to koala charities ongoing, aiming to spread Australia wide.
https://www.youtube.com/watch?v=-FVayL-7pZ0
To this day the donations currently sit at approx $60,000 AUD with another $10,000 ready to go when we find the next koala sanctuary/charity ready to take the plunge in accepting crypto currency donations. Getting them on board while crypto is still new would open them up to so many more donations. For example, most recently $10,000 we had Magnetic Island set up an Ethereum wallet which we told community members we would do a giveaway live stream event for anyone who donated, every $10 = 1 entry. They ended up receiving an extra $500-1000 just from this giveaway contest.
Currently NFTs projects are actually starting to lean towards including charitable donations. It's amazing to see and be a part of. People really enjoy buying into a project that has a great cause. I love telling people who have a negative connotation of crypto that online monopoly money is being used for real life philanthropy and making a difference.
It feels like you guys have no intention of slowing down anytime soon. What can drop bear fanatics expect in the future?
That is absolutely right, Drop Bears have no intention of slowing down. Right now, we are wrapping up development of a Drop Bear photobooth, which allows owners to import their NFTs and change the background, which is a feat only accomplished by one other project. The technology behind that is incredible, we have actually taken that one step further and upgraded from static NFTs to animated backgrounds which no project has ever done before.
The next NFT drop for our collection is Emus. These Emus are not only cooked but packed full of even more Aussie features and characteristics. We have traits from anzac biscuits, lamingtons, vegemite, zooper doopers, bunnings snags, 3m flatty, ciggie glasses, the list goes on. This will be a fun drop and our community is anxiously awaiting.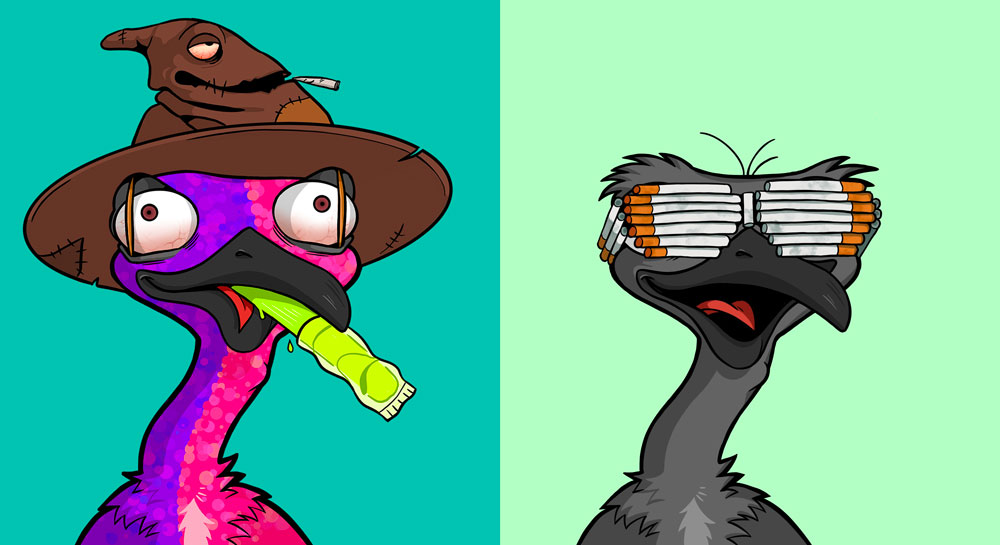 The Drop Bears team are currently locking in a team to create a p2e (play to earn) game that is only accessible to owners of the Drop Bears collection. This will include an in-game currency that has the ability to be listed on a cryptocurrency exchange and be bought/sold. We also are currently rolling out Axie Infinity scholarships to Drop Bear holders which is another p2e game. The scholarship allows people to play the game and earn $SLP without having to pay $1000 USD for a team.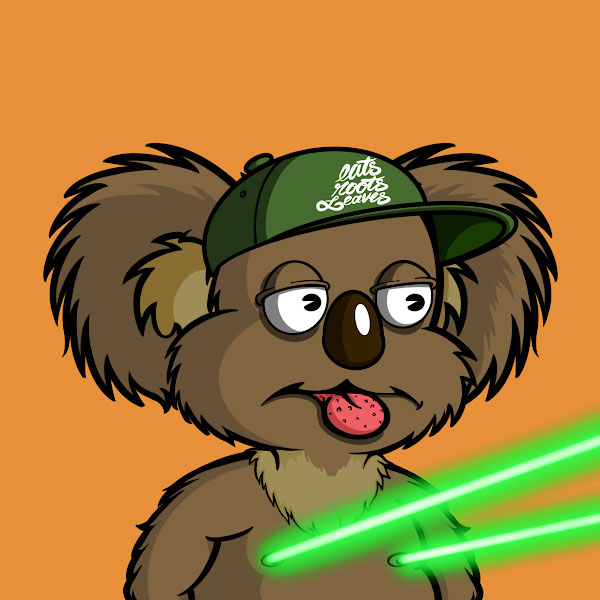 For anyone looking to invest in the crypto space as a buyer or artist, what words of advice would you give them to get started?
The most important rule in crypto & NFTs is DYOR (do your own research). Not everything is going to be a 10-100x moonshot, most will probably fall off after a short period of time. We have invested in a few ourselves that collapsed or 'rug pulled'. Spend those countless hours researching, never risk more than you can afford to lose and never go blindly into something because an 'influencer' tweeted about it.
Start off small, DYOR and invest in projects that have long term goals.
Becoming an artist in the NFT space can be very daunting. You know how to create art and when you learn how to list it no one buys it. This is because NFT buyers are looking for artist/projects who are going to continually provide value to them. The best way to get established is build up a twitter following, do some NFT giveaways, get some eyes on your art, build a community discord and be active. People love how active we are as founders in our community. Projects with founders who are only in there once a day, usually fail.
Thanks to Rhys for taking the time to chat! Find all info on Drop Bears here. Follow @DropBearsio and @dropbearsio, check it out on Opensea and join the discord. And of course, huge shout outs to Zipmex!