Alex Marks aka "Blue Snapper" is a master behind the lense for over 15 years. From making newly weds very happy to capturing the unique angles of the ocean he has been published in many magazines such as Monster Children, Surfing World and so on.
Alex will claim his greatest skill is actually making up puns. For those who have been on shoots with Alex would know what we are talking about. In between shots you might hear something along the lines of "Your getting the picture right?" or "I'm trying but not coming up with anything flash". Maybe the kind of dad jokes we are all to familiar with but at least it makes us smile. When asked if he would like to do this feature he came back with "I'm down. As long as you don't portray me as some white balanced, not too flash, focused and over exposed chump then it should be sweet".
What can we take from this you ask? He lives and breathes this shit, thats what. So even when he got the opportunity to take a much need vacay, he still dragged 15kg worth of camera gear everywhere he could just so he could share his adventures with you fine folks. Enjoy this little feature of New Zealand through hand picked frames from Alex Marks.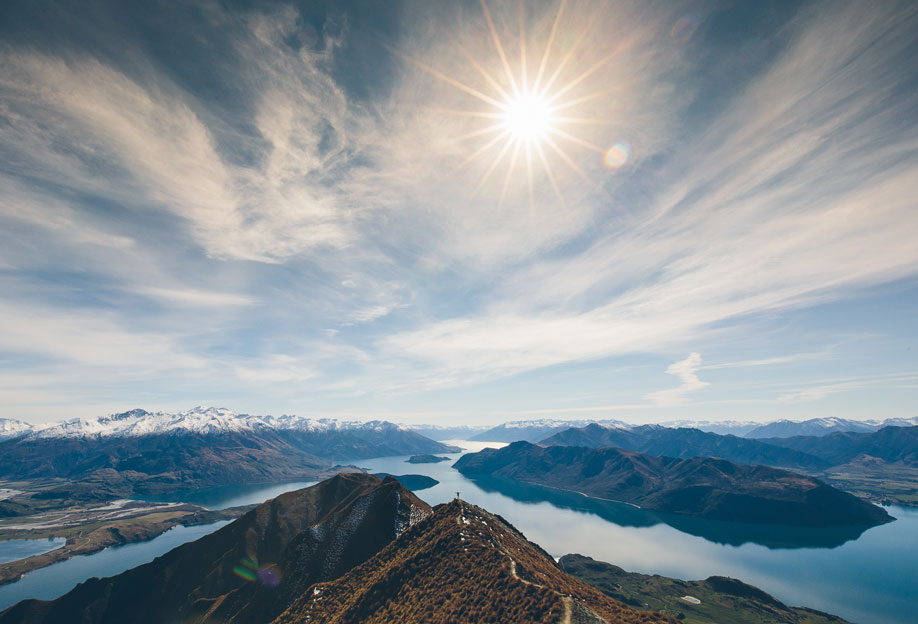 So we hear you're a busy guy. Word on the street is your fully booked well into next year?
It's crazy! I'm usually fully booked for about 12 months in advance. Mental. But can't complain, gotta pay for the new iPhone when they bring it out each year!!! That and coffee. I just hope people continue to do crazy things like getting married, so I can continue to take their money.
Was this trip to NZ for work or pleasure?
Pleasure, but the cameras always come along for the ride. I like to visit somewhere new each year for a little photo adventure.
What was the highlight of the trip?
We did this incredible hike up to the peak of Mt Roy. It was difficult, especially with my girl being 3 months pregnant. But we completed the challenge and the view was well worth it.
Lens of choice for this kind of work?
All these shots were shot with one of the following: Canon 85mm f/1.2L II, Canon 16-35 f/4L IS, Canon 35 f/1.4 or Canon 70-200 f/2.8L IS II on a Canon 5D Mark III
Where should I take my girl if I head to NZ?
Go to Lake Wanaka it is incredible, or just go near there and get lost, you can't go wrong. Then when you have finished doing that, go to your hotel room or camper van.
Tell us your secret with these starry night shots.
It's not really a secret haha, leave your shutter open for 30 seconds and shoot at a low f-stop. Like 2.8 and you'll be laughing. You'll also be cold, because it's about minus 3 when you go out at night to shoot these.
So your obviously a man with many skills. What's some of your favourite subjects to shoot?
Surfers in pumping waves in places like Hawaii, Bali and the Northern Beaches (on the 4 days a year that it's going off), Landscapes and even weddings (yep weddings) Right couple, right location and rad light = all time.
Can I get one of these for my wall?
You can. Or your billboard or even your wallet, I will also consider printing passport sized ones if you would like.
Where can I buy them?
The best way is to shoot me an email [email protected] or jump onto my instagram @bluesnapper and get in touch. Woo!