Over the last decade, artist Chris Yee aka Ryde's favourite son has carved a place for himself as one of Australia's most strikingly original talents.
Yee has long nurtured his propensity for channeling a variety of colourful inspirations – ranging from 90's comics to neon-lit K-pop stages – to pull you into fantastical worlds shivering with a kinetic energy told through the bristles of his ink pen. From swing kids orbiting psychedelic landscapes to parka-wearing space cadets brandishing pistols, every image feels like a visual memento from a lucid dream.
Like Caesar ingraining his grandiose personality into the architecture of Rome, Yee has recently made a habit of leaving his mark on his hometown.
Yee has garnered an enviable list of accolades that have had a direct impact on Sydney's visual identity. He's adorned the Chinese Garden of Friendship with intricate tapestries and finessed shopping icon The Galeries with bombastic Lunar New Year designs. His latest contribution is the Tumbalong Heritage Artwork, proudly on display in Haymarket, Chinatown.
We caught up with Yee to talk about how the amazing work came to be, and what it means to have accomplished such a significant feat as an Asian-Australian artist.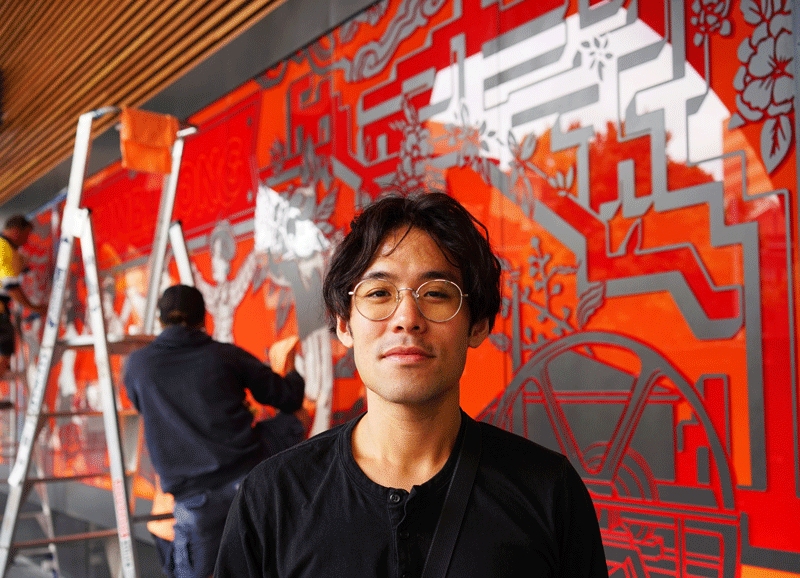 How did this project initially come about?
During the process of building the now existing, Darling Quarter, Lendlease requested a heritage artwork to socially compliment the new Tram Line as well as act as some kind of homage to the past. The wonderful people at Art Pharmacy (Emilya, Lily) reached out to me as head producers of the artwork and luckily chose my artistic vision for the area. The expert team at Axolotyl rounded out the artwork by fabricating the lights, 2 tonnes of glass and install.
https://www.youtube.com/watch?v=huNuJdo-aVU
The piece hosts litany of references to Haymarket's storied past. What was it like researching the included images? What did you find out?
It was super Interesting! there was so much I thought I knew and culturally familiarized myself with by growing up around the area over the last 30 years, but in terms of hard research, the artwork specifically pays tribute to the great historical importance of the industrial change in this country. So pictured in the artwork you can see the John Dickson Steam mill, The famous Biddell Brothers confectionary factory, The Cormack Cooperage and in most recent history the late, great Sydney Entertainment centre.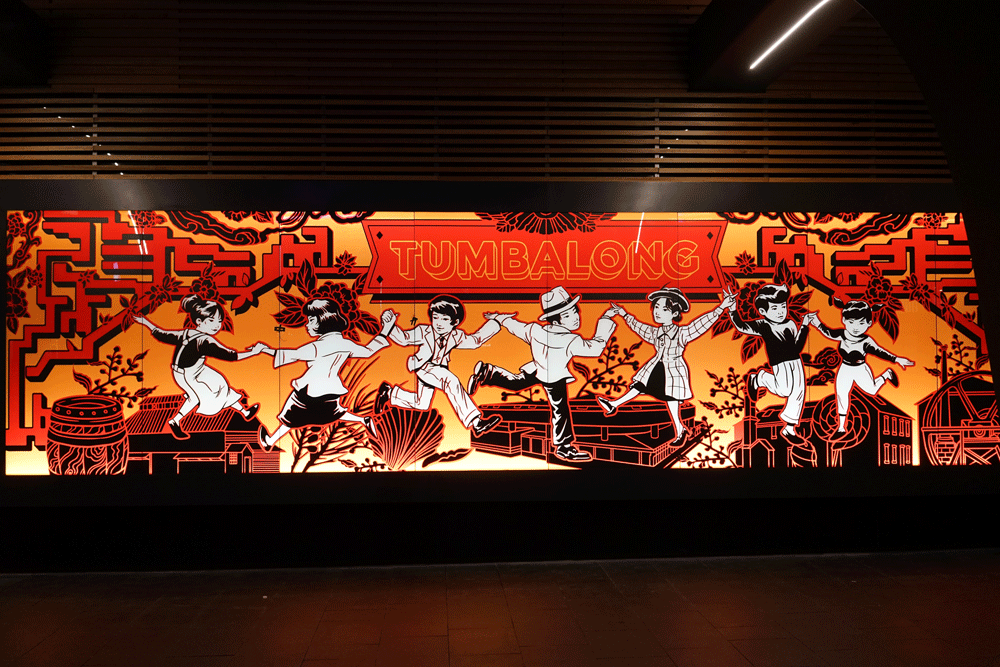 How did you approach the work from a stylistic perspective?
From a visual standpoint, I wanted to inject as much of my personality, and cultural experience as a born and raised Asian – Australian. the Tumbalong artwork itself is titled around the original name given to the area by the indigenous people of the Cadigal Clan, so with my dancing Characters I wanted them to act as a modern expression of the hunting and gathering traditions of the cockle's and Guman pines throughout the area.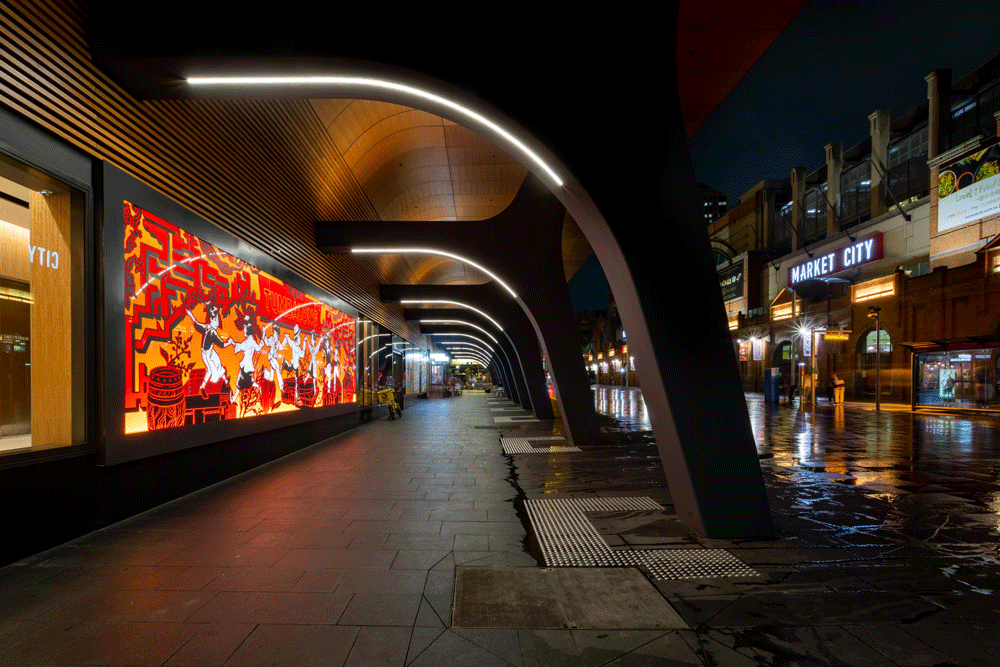 The cockles and pines are also featured, but reinterpreted as a modern take on traditional Chinese Ornamentation around the borders.
You've often spoken about the importance of narratives in your work. How did you embed this idea into this piece?
With my personal bold and graphic stylistic approach, the narrative of this artwork is really driven by trying to tie 3 seperate but undeniably intertwined cultural histories together in homage. As with all things in Sydney, this is an evolving narrative, but for me its is about trying to find the similarities in culture to create some form of social unity.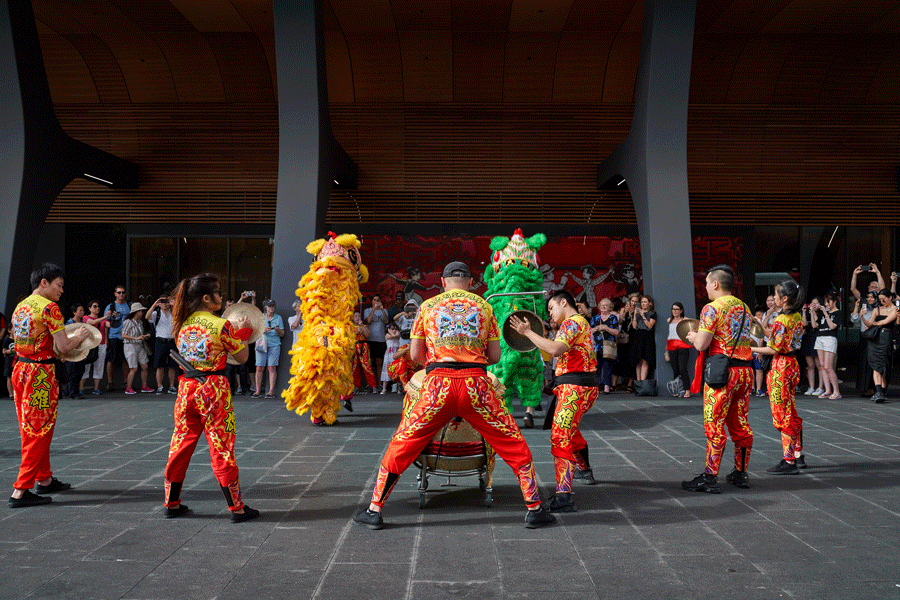 What does it mean to you as Asian-Australian artist to have a heritage work in Sydney's Chinatown?
It means a lot for me as a Chinese-Sydney born artist to leave my mark on the area. I've spent so many years just hanging out and growing up in that area, so it feels amazing and surreal to be part of the fabric of the area. I feel that this is an important time for change in Sydney, so I'm humbled and honoured to share my perspective and personal relationship with the evolving community and people, to help bridge the gap and remember the past.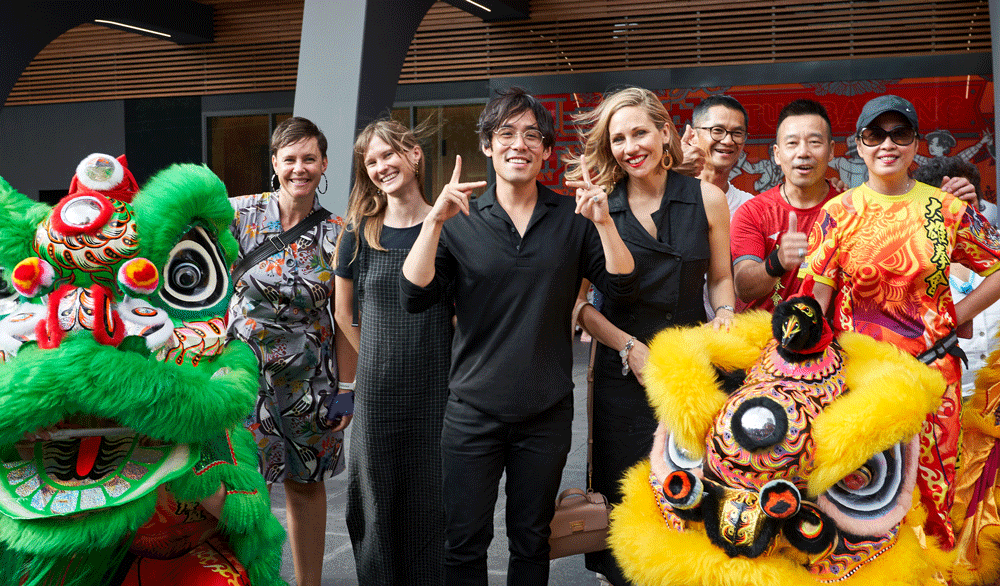 What are your plans for the rest of 2020?
Definitely to explore more fabric work as well as evolve my illustration stuff! Learn to cook and dance good.
Special thanks Jodi Barker for the photos! Find more of Chris Yee's diverse works here. Follow @yeetheeast