Shortly after releasing one of the standout albums of 2018, Joyride had us over to chat licorice disks.
It's been a long wait for fans of Sydney vocalist/producer/DJ Joyride but, as of a couple of weeks ago, we have the gift we've all been waiting for – his stellar debut record Sunrise Chaser. It's a 15 track journey that covers the euphoric highs and the darker lows experienced from Friday to Monday in the life of the average fun seeking 20 something.
The ARIA-nominated musician's ability to craft tunes that capture the naive sentiments of youth, whilst demonstrating an intense emotional sophistication is evident throughout the LP, and his moniker has never been more fitting. It's as if he's pulled up in a black limousine to pick you up from the gutter on a Saturday night – you don't know where you're headed but you know you're in for an adventure.
https://www.youtube.com/watch?v=dF82HE2l5XQ
Joyride will be hitting the road in support of Sunrise Chaser in January and February next year, and you can trust that the shows will be off the chain (info here). But what sort of records get him in the mood? Check out some of his favourite wax pizzas below.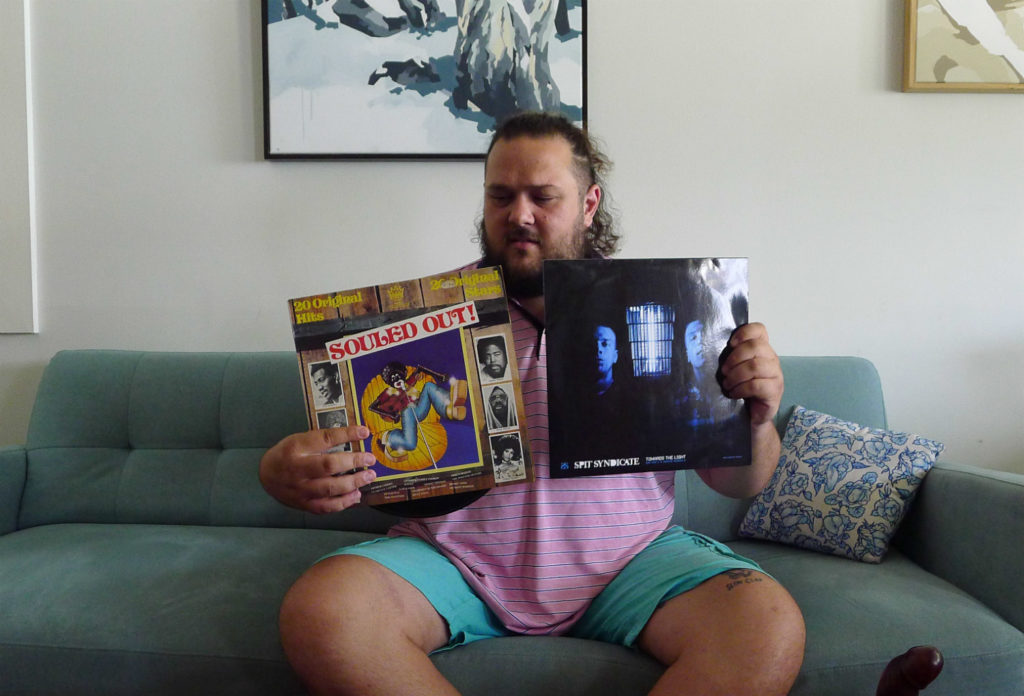 Various Artists – Souled Out
I always would go through my parent's records and just pull random stuff out and listen to it, and this one was one of the first taste of soul music and black music really that I experienced. As a ten-year-old, just figuring out that he really loved music, hearing the theme from Shaft was just like, 'what the fuck man?'. So many of these songs, I know them back to front now. But in particular, 'Give Me Just A Little More Time' by Chairmen Of The Board, just a fucking absolutely bananas song. Crazy, crazy shit… But god damn the artwork is just truly disgusting. By modern standards especially.
Spit Syndicate – Towards The Light
I'm featuring on two songs on this as Rowan Dix, pre coming up with Joyride… We started touring and I was DJing for them and we were just kind of thrown into these Aussie hip-hop tours, and riding that kind of wave, that zeitgeist, that was happening in the mid to late 2000s into the early 2010s where Aussie hip-hop was something that a lot of people really liked.
It really was interesting to be a part of, it just kind of launched for everyone, including like Horrorshow as well. Solo is on three songs on this, this was the first thing that was put out from anyone from One Day on it, and for better or for worse, where it all started. This was one of those things I want to make sure I keep this for my entire life. Even though like most people I have a lot of records and not a record player.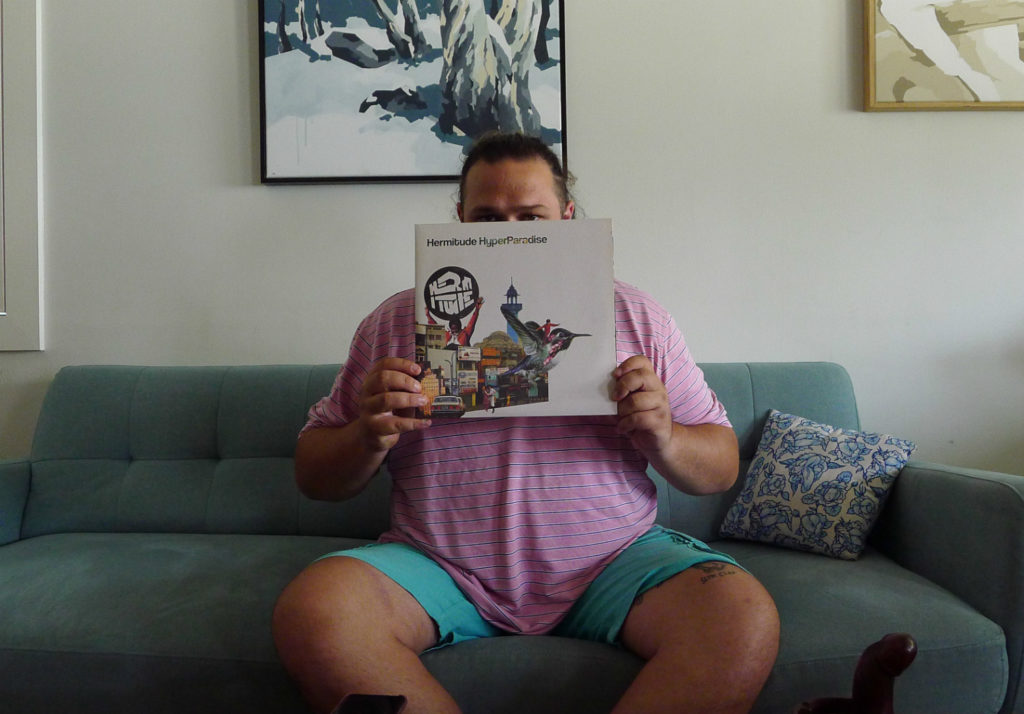 Hermitude – Hermitude HyperParadise
Hermitude are personal heroes of mine and I think I might've stolen this from them [laughs]. What a crazy crazy fucking record. It's wall to wall dude. Look at the bangers there, like 'Speak Of The Devil', which I'm singing on actually is sick. 'HyperParadise' always fucking threw me to space, but 'The Villain' the knock on that is like drags and kicks through. It's just such a fucking party record. 2012 it was just years ahead. Super duper advanced man.

Bree Tranter – Another Night On Earth
So Bree was in a band called the Middle East… You listen to this and it's like listening to a friend. Even though for me it is listening to a friend, so maybe that's why, but fuck you can just connect so strongly with how she writes and how she delivers her music. It's just really, really special. Start to end, I can't think of anyone who has any musical taste who wouldn't have their socks blown off by this.
Serato Control – We Are All DJs
So this is more about the physical thing, rather than the person and the music and shit. It's just so sick that they made this, firstly because it fits in your backpack so like perfect for going around, but also, what a great message we are all DJ's. It really pissed off a lot of DJ's because, especially guys who play on vinyl, they can tend to be a bit more elitist about DJing. They can wankers sometimes, and so for them to drop 10-inch vinyl controllers, that say 'we are all DJ's, because music is to be played with,' like, fuck yeah man.
That just aligns so deeply with what I think DJing is, which is lifting the vibe up, playing good music and being responsible to a dance floor. Not just being dance floor being responsible for you. I've played some crazy shows just with this record. They're just so great, I love them.