Rising pop talent Lucy Neville takes us through her collection of wax pizzas.
It seems that Australian media have been a little slow to the Lucy Neville party. Despite having amassed over 10 million Spotify streams and racked up hundreds of thousands of YouTube views, it was only last week that she received her first spin on triple j. It's an oversight that we predict will be quickly forgotten as her sugary, yet emotive, electro-pop hits more ears around the country, elevating the up-and-coming songstress to national radio staple.
Working on music daily in her home studio in Sydney, it seems that songwriting is more of an obsession than a hobby for the 22-year-old, who released her first EP back in 2015. Her cover of Crowded House's classic 'Fall At Your Feet', which has garnered the lion's share of her streams, as well as a handful of singles including her latest banger 'Wasting My Time' are evidence that she has the ability to deliver polished, powerful, and at times fragile tunes.
https://www.youtube.com/watch?v=0P4yPyF5sj4
Lucy will be returning to The Factory in Marrickville (which she sold out on her debut headliner in July) on January 19th (tickets here) and heading down to Boney in Melbourne on February 2nd (tickets here). But before you catch her live, take a look at her favourite licorice disks below: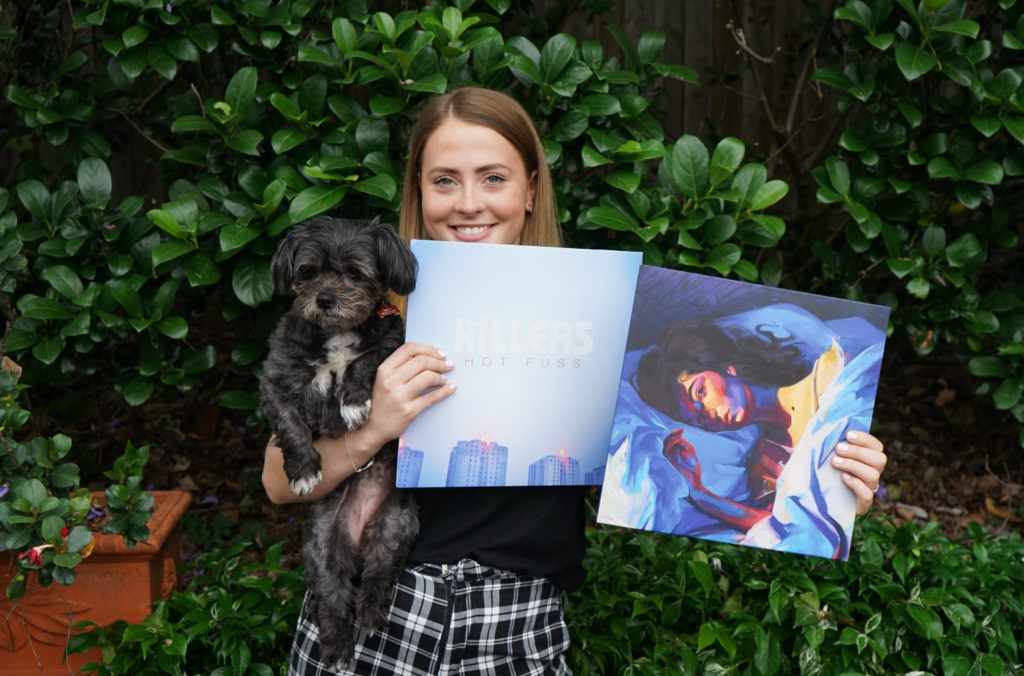 The Killers – Hot Fuss
"This one kind of just reminds me of growing up. My dad used to play this all the time. And then, when I started dating my partner, Alex, he was just playing it one day on his vinyl, and I was like, "Oh my God, I haven't heard these songs in forever."
"Usually, when I'm driving, I just put on Best Of The Killers, and this is what comes on… I'd never listened to 'Glamorous Indie Rock And Roll' until recently, and now, I'm like, "oh my God, that song is the best"… I think we all come out of the womb just knowing the words to 'Mr. Brightside'." (laughs)
Lorde – Melodrama
"I'm gonna be bold and say it's my favourite album ever… There are some songs which have little to no production on them like 'Writer In The Dark'. And in 'Supercut', that part where she includes her voice memo/demo that she made, I love that about her."
"It reminds me of when I saw her at the Opera House, outside on the forecourts, with my sister. We bought the t-shirts, we were matching (laughs). Then in green light, the fireworks went off, and I'll never be able to forget that because it was just this moment with everyone around us, and it was just pure joy… All these people smiling at each other and dancing together, and we'd never met each other, but it was just this moment of, I don't know, community and just love. Everyone was so happy."

The Wombats – Glitterbug and This Modern Glitch
"These are going hand in hand because I couldn't pick… These albums remind me of when I was getting to know Alex and falling in love with Alex, which is really nice. We went and saw them at the Opera House which was such a different venue for them because everyone was seated instead of in a mosh pit."
"We booked the tickets ages in advance and Alex's appendix burst, like a week before. So he hobbled his way to the Opera House, and we were standing, and I was supporting him, (laughs) but it was so worth it. It was so fun. Probably a good thing we weren't in a mosh pit."

Vance Joy – Nation Of Two
"I kind of went into a spiritual moment when this album came out… There's not a song on here that doesn't make me feel something, and I really like that about it. I think he does a really good job of having such simple songs, but every one's a little bit different. And he's just released I'm With You as a single version, thank God, because it was just an acoustic track."
Lana Del Rey – Born To Die: The Paradise Edition
"I like that she was so moody and broody. I know that's what people give her hell for, but it's definitely my style of writing as well. I just like how it's not so obvious, and it's just a bit more figurative. And she was one of the first artists I saw in one of those smaller venues in Sydney."
"It was at the Enmore, and she came on at eleven when she was meant to go on at eight, so I was getting a bit salty in the mosh, but it was worth it. Then I saw her when she came back at the beginning of this year, and she sold out Qudos Bank Arena a couple nights, which makes it so cool to have been in the smaller room with her."