Lead guitarist Lewy McKenna dishes on the vinyls that inspire him…
Last week, Brisbane band Beddy Rays released their debut self-titled album. While the wholly independent release marked a moment of arrival for the coastal punk group — complete with the signature mosh-ready larrikinism of early singles 'Sort It Out' and 'Week On Repeat' — 'Beddy Rays' was a mere culmination of the band's years-long presence in the Australian music scene. 
Last year, Beddy Rays' breakthrough track 'Sobercoaster' made its Hottest 100 debut, amidst the band's multiple appearances at festivals from Summer Sounds to Valley Fiesta. Now with their first album under their belt and a slew of music videos to their name (the most recent of which saw the quartet morph into their alter-ego's for the melodic latest single 'Handful'), Beddy Rays have lined-up a 2022 schedule every bit as ascendent and the band's sound itself.
In mid-August, Beddy Rays will embark on the national, 14-date tour, taking their debut album and 2017 EP Lost Found Beat Around to shows from Perth to Brisbane (tickets here). Elsewhere, they'll join the lineup for the forthcoming editions of Spilt Milk and Falls Festival, after a separate run of record store appearances which wrap up in Melbourne tomorrow. 
https://www.youtube.com/watch?v=jq9Nh-CQddA
Finding time in their schedule, we caught up with Beddy Rays lead guitarist Lewy McKenna, for a run-through of his favourite vinyl and the one album that made him "go absolutely ape shit." 
Green Day – Insomniac
This Album just reeks of nostalgia for me. I grew up listening to a lot of Green Day with my mates but also my old man. One of my mates, Will, had this album on CD and when I'd get a lift home from school with him we'd chuck it on and go absolutely ape shit over it! Jacko bought this record for me for my birthday a few years ago and it holds a special place in my heart because Green Day are one of the biggest reasons Jacko and I wanted to be in a band. I often find myself dropping the needle on this one!
Third Eye Blind – 20th Anniversary Album
I was rummaging through the record section at JB HI FI one day and found this weapon of a record and just had to throw my wallet at it! Ever since I got a record player, I'd been looking for a Third Eye Blind record but couldn't find one for the life of me. They recently got back together and released this 20th anniversary album and notlong after it made its way into my collection. It has 4 different vinyls in it with all the songs I love from them so it was a no brainer for me!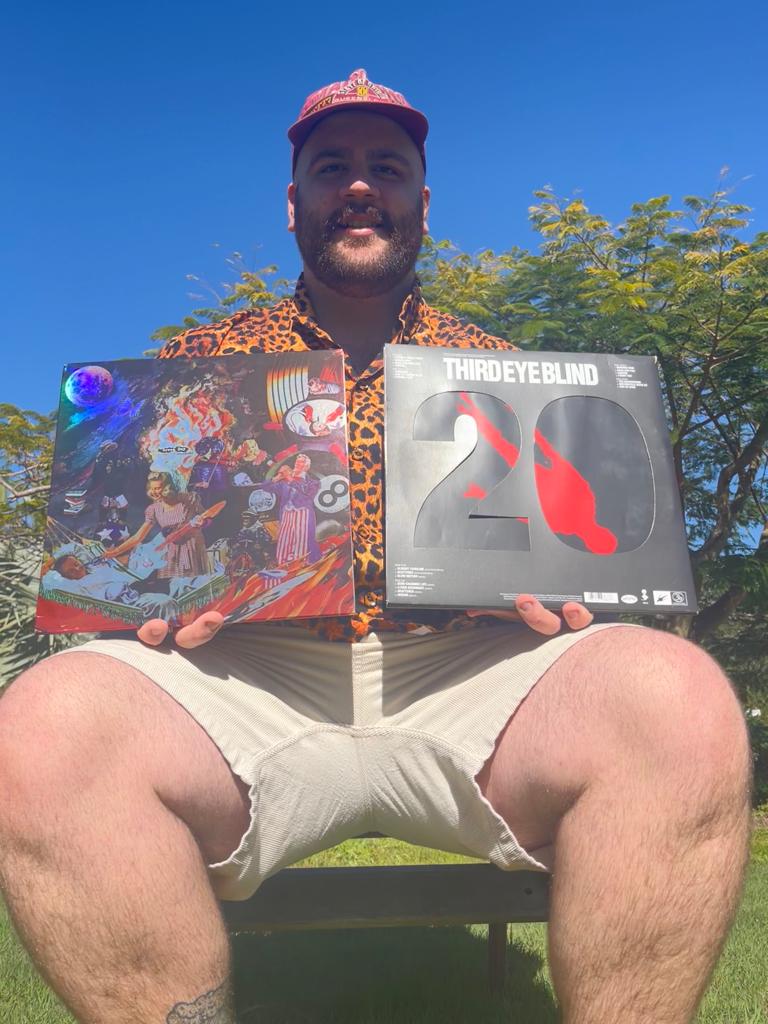 Sunnyboys – Self Titled Album
I went through a huge phase of listening to old Australian bands and Sunnyboys were one of me favourites! I'd be at work spinnin' spanners and have my phone in my top pocket blasting this record and singing along like a jolly old bloke. I loved them so much I decided to go digging to see if I could find this album on vinyl. I scoured the internet and found one on discogs from a seller in the UK and I just had to scoop it up! It cost me a fortune as it is one of the first pressings and is in fantastic condition but in my eyes it was worth every penny! I remember the first time I played it, I was sitting out the back with my old man having a beer and he looked at me and said "Get f***ed! How did you get your hands on this record?" to which I replied "The good old internet, Dad".
Hoodoo Gurus – Stoneage Romeos
I bought this record back in 2019 when we were on our first tour in Sydney. We were waiting to catch a plane back home and decided to go for a wander through the city. We found this record shop and me being me, I just had to go in and have a squiz! I'd been chasing a Hoodoo Gurus record for a while and stumbled across this one. I instantly rang Jacko and told him what I had found and he was bloody stoked for me! I got the fella at the record store to ship it home for me and when it arrived, I got Jacko over and we plonked it on the record player and turned it up to 11!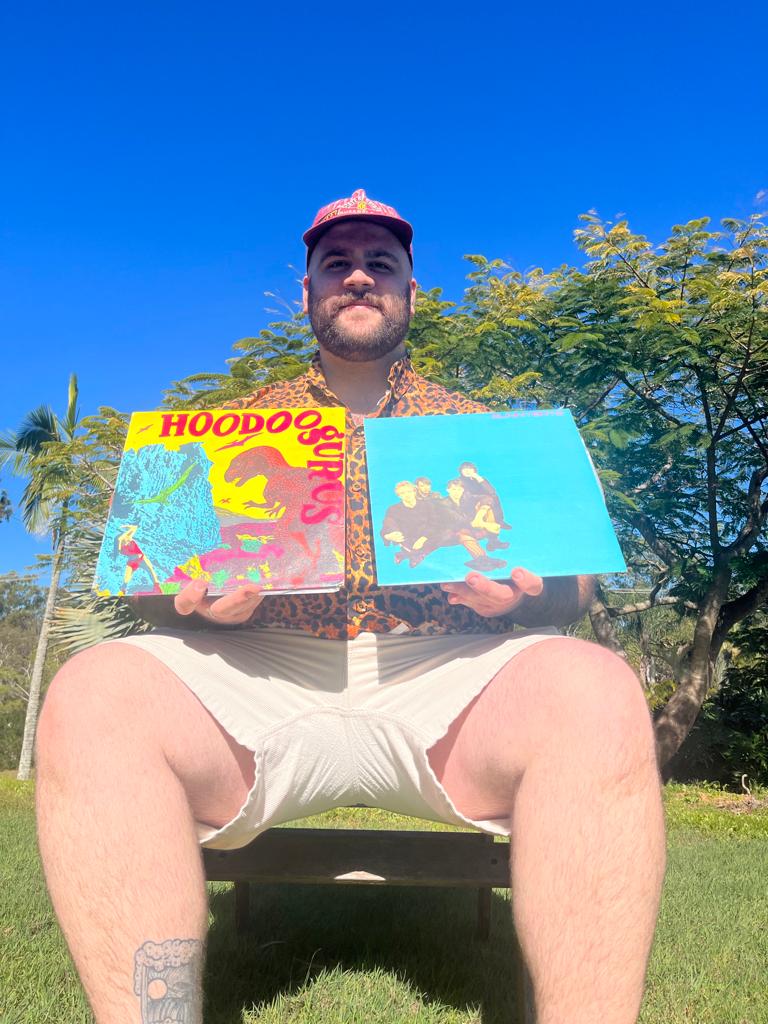 Creedence Clearwater Revival – The Very Best Of
This is one of my most recent purchases! We were down in Melbourne doing some live recordings at The Aviary Studios and there was a little record shop next door. They had a heap of second hand records and I was absolutely froffin! I found this bad boy and got it shipped home to Reddy Bay. The first thing I did when I got home was play the record and I can't explain the feeling I get when I listen to old vinyl. There's just something about it that sounds so much better than anything digital! It could just be the fact that everything is analog and me being the enthusiast I am, it just hits me right in the feels. I had recently purchased a 'You- Beaut' Hifi system and this was one of the first records I played through it and I remember being fully immersed and thinking "F**k yes".
Catfish And The Bottlemen – The Balcony
The first time I heard Catfish was when Jacko showed me their song 'Cocoon' and I instantly fell in love. Jacko had told me that he heard them on triple j so for a little while I had to text him and say "Oi what was that triple j band you showed me?" because I was finding it hard to remember their name. Shortly after, they became one of my favourite bands which led to me pre ordering this vinyl and all of their subsequent albums. 'The Balcony' is still my favourite album of theirs and it has solidified its spot in my vinyl collection.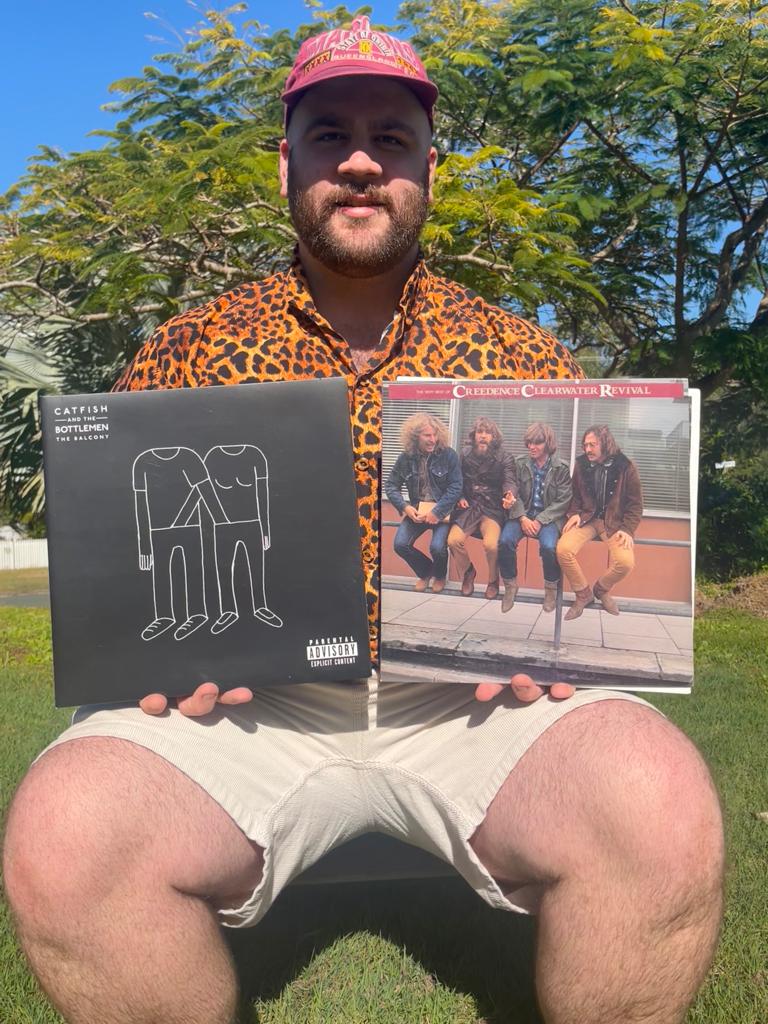 The Pretty Littles – Soft Rock For The Anxious
I strongly believe The Pretty Littles are one of the most underrated bands in Australia and this album is the reason I believe that. I'm a sucker for a good story and their Paul Kelly-esque ability to tell stories and paint a picture through their songwriting has cemented them as one of my favourite bands. I had a solid two years in a row where these guys were my most listened to artist on Spotify and I'm not surprised! This vinyl has put many miles on my record player and will continue to over the years.