Boy & Bear share the records that shaped them.
With their fourth record Suck The Light just weeks away, chart-topping indie rockers Boy & Bear have a schedule that is more packed than a Himalayan rucksack. Having returned with new music earlier this year, following a hiatus whilst frontman Dave Hosking stared down the barrel of a potentially debilitating illness, the quintet are well and truly back into the swing of things.
Currently in the midst of a huge run of US and European dates, they are more than making up for lost time, repaying the loyalty of their global fanbase – and it's more than just shows. Their latest singles 'Hold Your Nerve' and album title-track 'Suck The Light' represent a shift into deeper waters lyrically, but retain their indie-folk melodic flavours. It's everything fans could ask of the group, whilst also allowing them to sonically push themselves further than we've heard before.
https://www.youtube.com/watch?v=KPuE1PEBaac
A couple of weeks back, we sat in bass player Dave Symes' sunny backyard and chatted about the vinyl that influenced the musicians they are today. Check it out below and head here to pre-order Suck The Light: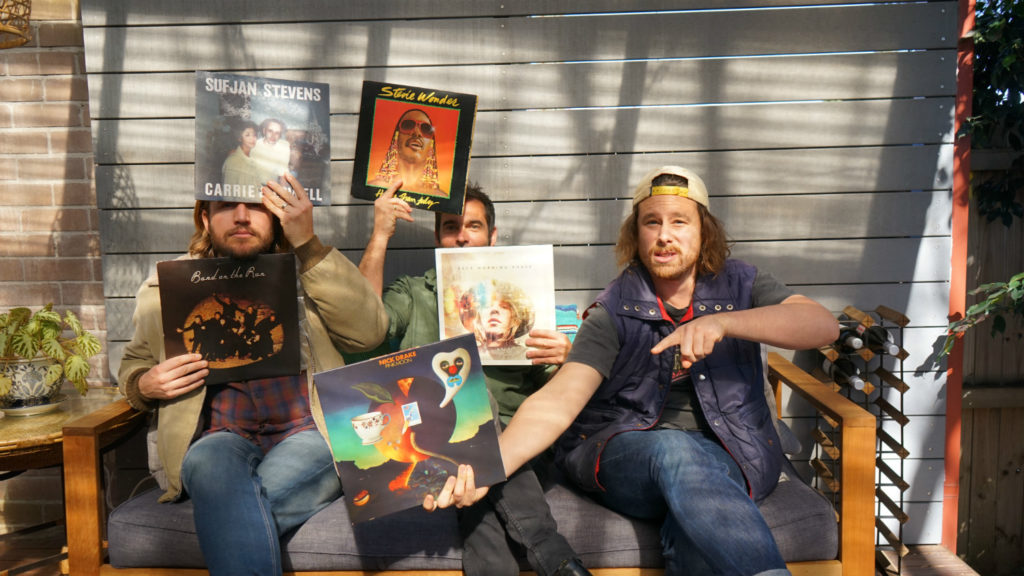 Nick Drake – Pink Moon (Dave H)
I can't remember when I bought the actual vinyl, it must've been maybe six, seven years ago now. I just find this record really interesting because of what he's been able to do, in terms of getting a unique sound out of the acoustic and a unique approach to his vocal melodies.
There's not a lot on this record. For the most part it's just human and acoustic, and I think there's a handful of really simple overtones. It's so unique, and so idiosyncratic and I still think those really fundamental parts of songwriting are there. All the songs hold up in the story, but once you dig into it you uncover the really interesting tunings on the guitar, and the way he's playing the guitar, and what he's doing with the melodies is actually quite unusual.
Beck – Morning Phase (Dave S)
This is one of the releases in the last five years that's played an important part in my current musical journey. It came out in 2014 when we were in America touring our album Harlequin Dream. I remember the cover being everywhere. So I bought the album and fell in love with the record straight away. We were traveling in a big bus, and it was one that I'd put the headphones on and got really lost in the sound world.
Some of the personnel, like the drummer Joey Waronker, as well as one of my favorite bass players, a guy called Justin Meldal-Johnsen who also plays on this record. He's somebody that I really look up to as a musician and producer himself, so it's really nice to hear these guys making the music here.
It was mixed by Tom Elmhirst, who we reached out to, I think as a band collectively liking this record, we decided we would really like to work with him one day. And we ended up working him on our current record. He mixed five tracks for us I believe.
Sufjan Stevens – Carrie & Lowell – (Killian)
This record's kind of like different for Sufjan, I feel. It's super, super vulnerable. Lyrically he's always been quite vulnerable in his music, but he definitely stripped it back a lot for this record. I've loved Sufjan for so long, back to when he originally started.
Lyrically it's about his mom and I guess the illnesses that she's faced in her life. It's prominently acoustic based record, and it's just incredibly powerful. It's one one of those ones where you just put your headphones on and stare out the window while you're on tour driving somewhere.

Stevie Wonder – Hotter Than July (Dave S)
I don't remember a lot of music from my parents growing up, but we had a record player. It was a Thoren brand, I remember that. There were a few albums. There was some Beatles stuff, and there was this Stevie Wonder record, and this is still the original one from those days. I just have these amazing memories of putting this on when they were there, but also when they weren't around in the house. Like learning how to put an album on.
I was into this probably before I got put onto further stuff in this idiom, but I just remember being really addicted to the African kind of rhythms. The funk, the passion in his vocal delivery. I used to dance to it. I couldn't not dance. I don't think I understood necessarily the political aspect. It was a kind of reflection of being an African American living in those days. I don't know that I understood any of that when I was listening to it as a 12 to 14-year-old, but I think I still felt it in his performance.
That continued for me when I listened to soul singers perform. I don't necessarily have to be connected to the lyrics, I can always feel the emotion of how they're delivering it. Whether it's something that's "this feels good" or "wow that's heavy", it's interesting. I feel like that really started from listening to this kind of record.
I keep it for my own family to have. I don't have much from those days, from Mum and Dad's stuff. I've got maybe a few records, but they didn't have a lot. It was interesting, we weren't a big musical family, but they loved their music.
Paul McCartney & Wings – Band On The Run (Killian)
I sort of grew up listening to a lot of this music because my parents were very much into that classic era. My dad's collection is very, very period correct, and it's very, very narrow. I don't think he's listened to new music since 1970-something. But that meant that I listened to a lot of these sort of classics, The Beatles, The Rolling Stones etc. All those classics that everyone knows, for a long time. But as a kid I got obsessed with it. The very first album I ever owned was actually Help by The Beatles on cassette. My dad gave it to me. I remember I was probably five or six, butI just loved The Beatles.
The Beatles became a huge inspiration for me and particularly when I started learning guitar. I became obsessed with George Harrison's style of playing, and that's something that stuck with me for a long time. He's not a virtuoso kind of guy, he's never a wanky sort of guitar player. He's always been, in my opinion, a very tasteful player. Never plays too much. And maybe I don't have the ability to play too much, but I try and always play as little as possible to get the job done. I feel like it can be much more powerful when you can just choose and cherry-pick your notes, and be a little bit more vast with how much you play. That's something I definitely learned from George Harrison and a lot of this music.
A long time ago when I was a kid, I remember one day a babysitter turned up to the house and I said, "Oh where are you guys going?" to my parents, and they're like "We're going to see Paul McCartney." And I kicked up the biggest fuss ever. I was absolutely fuming that they wouldn't bring me as a kid to Paul McCartney. I remember my dad promised me "Next time it comes out, I promise I will buy you a ticket."
Of course, 25 years went past, and it got announced that Paul McCartney was touring. The first thing I did was email my dad and said: "You owe me a bunch of tickets." He was good enough to jump online straightaway and buy me a few. We all ended up going out and seeing him.