We caught up with the Northern Beaches lads to spin some wax pizzas.
It seems that there's no stopping Sydney's Eagle Eye Jones right now. Amassing over 200K Spotify streams, packing out Oxford Art Factory, earning the attention of triple j, and steadily building a fan base around the country, it's hard to imagine they aren't headed towards success in the Australian scene – especially if they keep putting out tracks like their latest, 'Never Get You Down'.
The tune, which dropped a couple of weeks back, is more of what fans have come to love about Eagle Eye; groovy psychedelia with a chilled-out blues flavouring. Once again they showcase their knack for writing hooky melodies, with the line "Never get you down" guaranteed to crawl in through your ear and set up camp there for at least a week.
But what of the music behind the band? We flicked through some licorice disks with the boys and these are some of their favourites: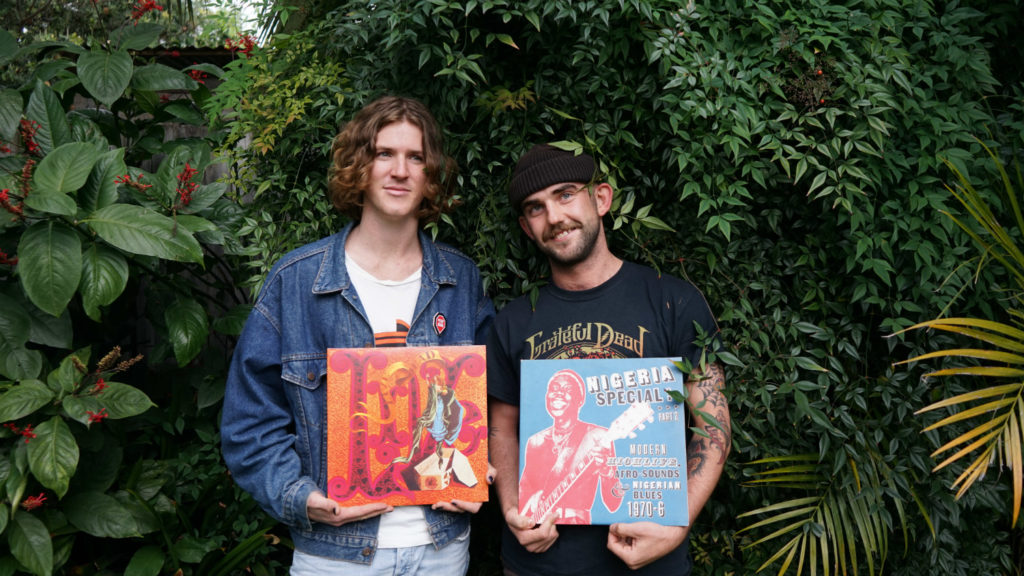 The Grateful Dead – Live/Dead
"Incredible record, created live in 1969, when they first started taking heaps of acid and building up a really big following. 'Dark Star' is the first song which goes for twenty-six minutes or something crazy and that's truly what blew my mind when I first started listening to The Dead," guitarist/singer Luke Saunders says.
"I'd never heard anything like it, it's incredible they'd just go into these wild, half-hour, sometimes an hour-long psychedelic jams. That song epitomizes everything that I respect about the way they present music – as a living, breathing, ever-changing thing – an expression. Every time they played 'Dark Star' it's completely different… Best improvisational band of all time. If you're interested in improvisational music, listen to The Dead."
Various Artists – Nigeria Special Part Two: Modern Highlife Afro Sounds and Nigerian Blues
"I chose this album because of where I am musically at the moment, listening to a lot of Nigerian, African stuff, and getting a lot of influence from that. This was kind of the forefront to delving into that kind of music and it holds a really special spot in my heart, I guess because it's an eye-opening album," artistic director Kane Lehanneur says.
"There's some really nice funky tunes on it. It's a gateway and now I'm on a fucking cosmic journey into a realm of African music. I spin vinyl and this is what started that. It's from 1976, and it's super fucking rock and roll. I really like that."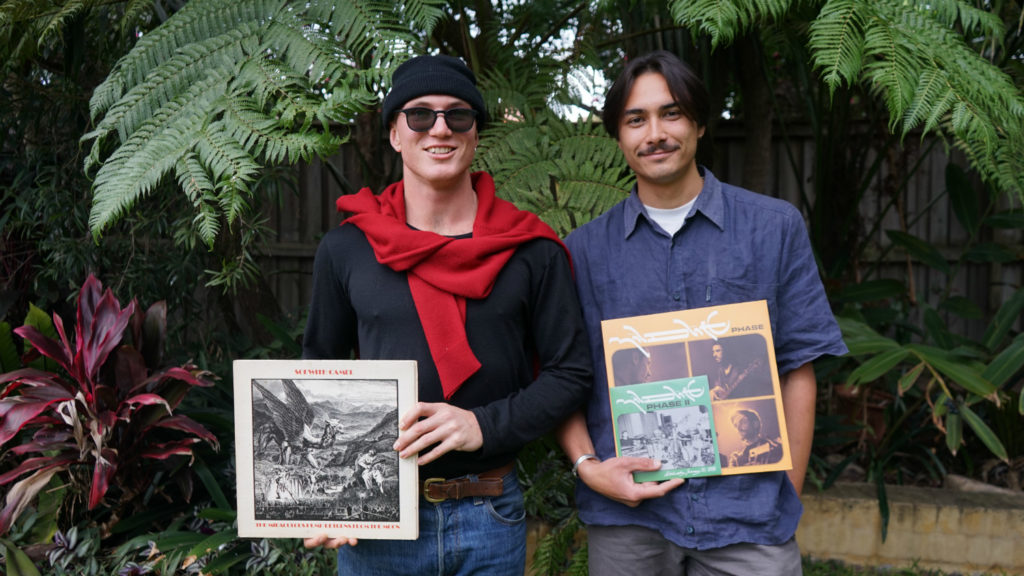 Sopwith Camel – The Miraculous Hump Returns From The Moon
"They're a psychedelic rock band coming out of California in the 1960s. The band members were quite disjointed and their personal relationships were quite severed. But the music they produce was the complete polar opposite to that, it's very coherent and progressive and psychy and catchy, with amazing hooks. We definitely take a lot of inspiration from it," bassist Dylan Goodearl says.
"It follows a really interesting year in American history of the 1960s. And it's just a very interesting time in humanity, where people sort of found liberation and found their voice and had the freedom to create whatever they wanted. This album is super progressive. It's 1960s, but you could hear a modern band playing it these days."
Mildlife – Phase
"I've chosen an album and the single both by the same artist, but I feel like the two go hand in hand in a musical narrative really…" drummer Jason Styles says. "To me, it feels like they've just exploded onto the scene and they're already just throwing big ideas… and 11-minute tracks. 'Phase Two' is like this psychedelic, progressive, kaleidoscopic, cosmic track that plays with tempo changes in these insane breakdowns. A flute solo, I mean, what more can you really ask an 11-minute track song?"
"Their sound incredibly kind of captures the 70s era. You feel you're kind of cast back to it, not only in what they write musically, but how they record everything. I think that the drum track, in particular, is just so dry and raw and really adds to that rhythm section, where they kind of just fall into this pocket. That's just so beautiful."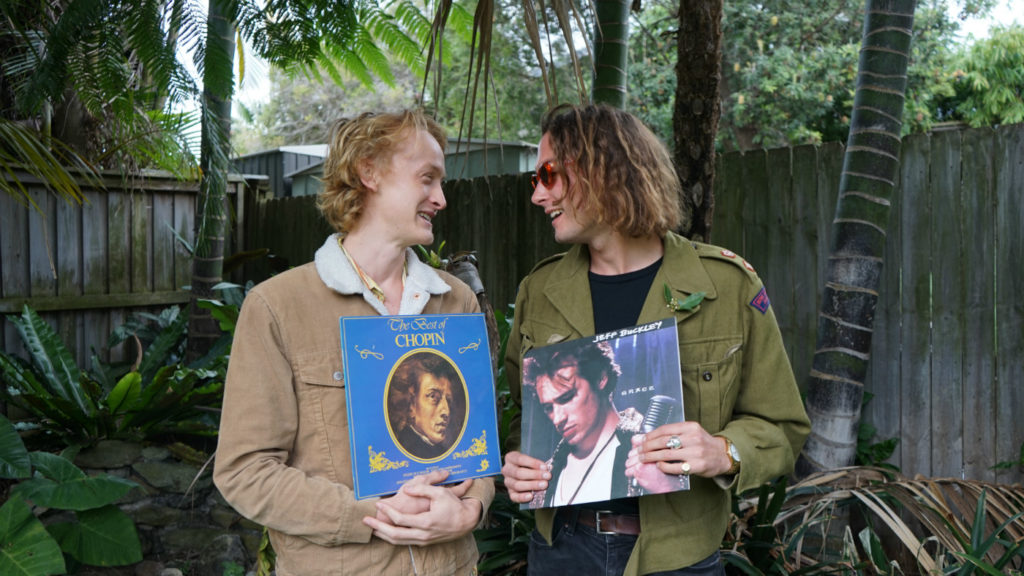 Chopin – The Best Of Chopin
"I had a pretty weird musical upbringing. Chopin was the first artist that I loved for myself, that wasn't someone else's thing," keys player Jamin Lee Bennett says. "He was the first guy that I researched for myself, and I learned so much of his music. It taught me so much of what I know about music today. He wrote, unlike a lot of composers at that time, mainly solo piano stuff. Which is sick, because when you strip out all the instruments you just have the raw building blocks of music and you really understand how music works on a very raw and natural level. Especially because it's a purely acoustic instrument."
"Even now that I'm playing synth in a modern band and that's such a far journey to go from solo classical piano, I still try and voice synth like it's a piano because I think that creates a really unique and interesting sound. Even in the studio, when we were in there, I wanted everything to kind of feel like it's got the harmonic interest that you can get with solo piano works."
Jeff Buckley – Grace
"When I was younger I listened to Hallelujah quite a lot, but when I met Luke, he put me on to a lot of the other songs on the album, like 'Lover, You Should Have Come Over,'" guitarist/singer Toby Jones says. "It is one of the best songs of all time, I think, and I just love how unique Jeff Buckley is and the raw emotion that comes out in all of his music. I have really fond memories of leaving the house that I used to live in, and riding down the street and listening to 'Lover You Should Have Come Over' and just and thinking "Fuck. How good is life?" sort of thing."
"It's really sad, but very beautiful at the same time. That's probably the main thing that I love about Jeff Buckley, the realness. He's just is this one of the greatest artists of all time. It's sad that he had to go so soon."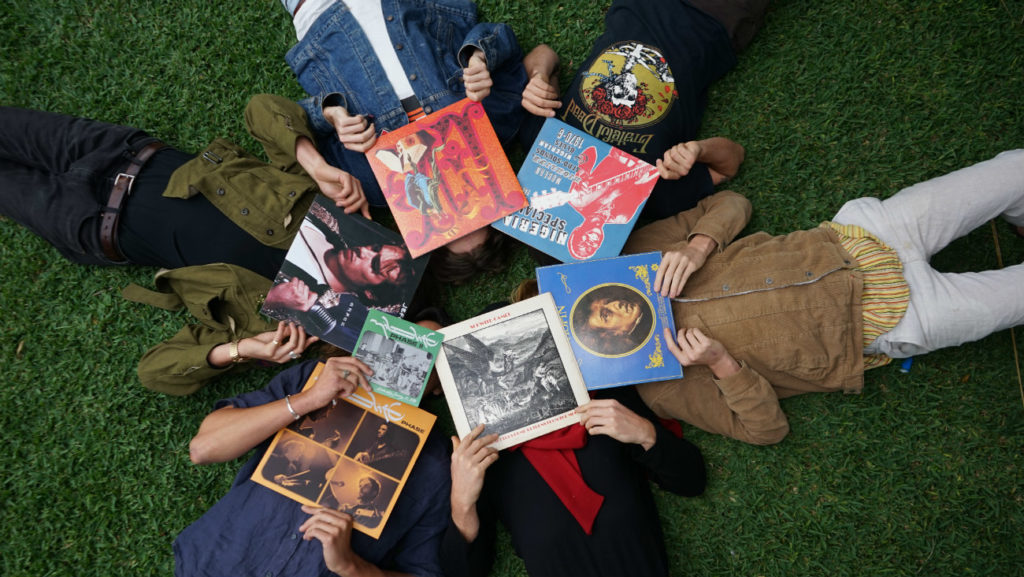 Eagle Eye Jones will be playing a bunch of shows around Sydney in support of 'Never Get You Down' over the coming months (info & dates here).