We caught up with grunge-revivalists Dear Seattle to pick through some wax pizzas.
With their debut album being 38 minutes of heart-on-sleeve vocals, backed up by relentless guitars, and crashing drums, you'd be a little bit shock if the boys from Dear Seattle didn't have some heavy records in their collection. Picking through their vinyls, it becomes clear that the boys not only live up to their reputation as lovers of all things fuzzy, but are also a down-to-earth bunch who don't mind a laugh.
Signing with Domestic La La Records (the label owned by Violent Soho's James Tidswell) last year, the Sydney four-piece are brimming with excitement over what the future has in store for them – and why wouldn't they be. Delivering wild live shows, and demonstrating a knack for writing tunes that have just the right balance of reckless thrashing and emotional impact, it seems that in years to come they will be occupying the space that acts like Violent Soho are in now.
But for the moment listen Don't Let Go above, and check out below, where singer/guitarist Brae Fisher, guitarist Lachlan Simpson, and bassist Jeremy Baker tell us about the records that turn them on: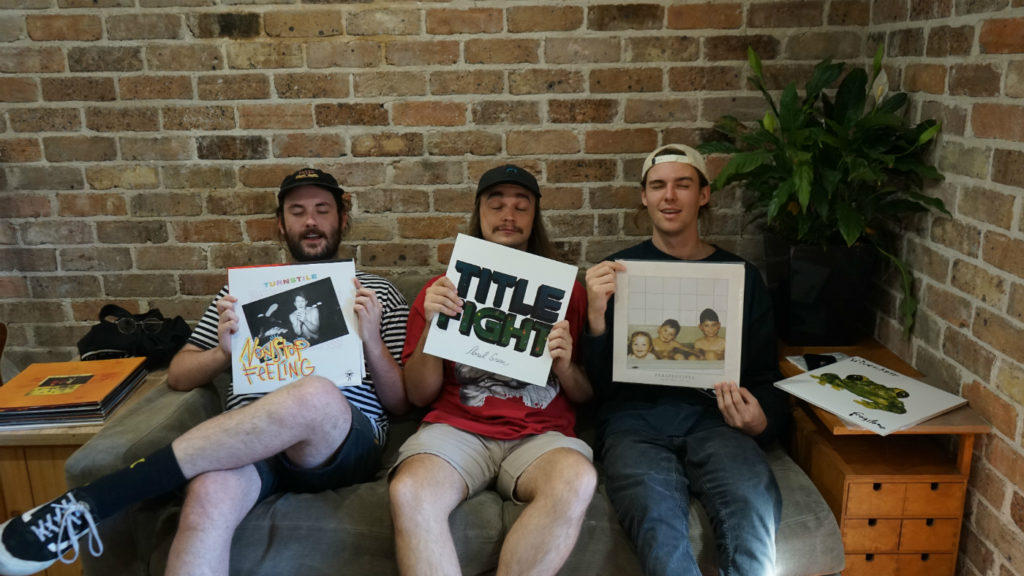 Perspectives – Stay For Those Who Care
"Perspectives are a local band from Sydney who are actually like a bunch of our best mates. They're pretty much the reason we started as a band. They're like a melodic hardcore band and that had been playing, all around the Sydney nightclub scene. At places like Hot Damn," Brae says.
"They'd play a bunch of those shows, and we would just go basically every week to watch them to get fucked up, basically. Then yeah, we were just like this is actually sick so why don't we just give it a crack. That's why we started this band with like more melodic hardcore side, with the first EP."
Turnstile – Nonstop Feeling
"Turnstile's one of the cooler hardcore bands going around the world, I feel. They kind of buck the trend of being a tough guy, in a hardcore band. They're kind of funky and weird and pretty experimental. It's kind of hardcore you can boogie too. Not like necessarily be violent to and stuff. We saw them recently at the Factory. It was an amazing show. It's like one of my favorite albums of all time," Lachlan says.
Title Fight – Floral Green
"This is my fucking favorite record ever. I don't know. It's just everything they do is just so cool and they're just so good at anything they do. Like, the album after that was like shoegaze, it was kind of like grungy and fuzzy. Before that it was more like pop punk," Jeremy says. "It's just their progression as a band. But this is definitely another high point for me out of all their records."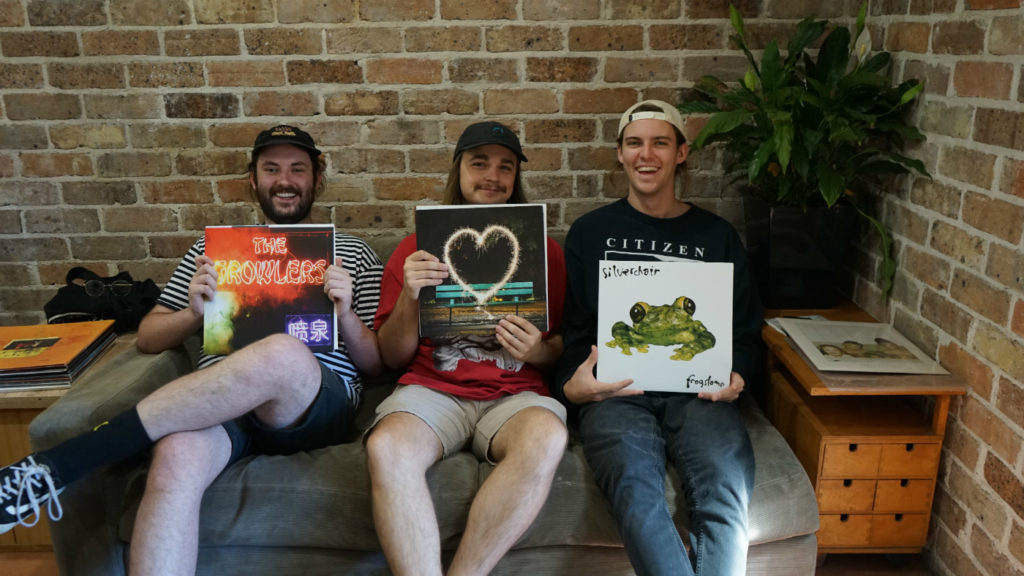 Silverchair – Frogstomp
"Classic album. The only real story that I have about this is it came out on the year of my birthday. I'm the same age as it. It's aged way better than I have. Basically, like, just the tracks on it I honestly can't believe that the dudes who wrote it were like 13, I think?" Brae says. "The music I was writing when I was 13 was fucking garbage in comparison."
"This album alone is kind of like pretty much it introduced me to like fuzz, effectively. It's just like sludgy sounding grungy music. It's so good. Everything on it's so fat. And especially for such an old record, as well. It still holds up so well."
The Growlers – Chinese Fountain
"I think it's probably my favorite record of all time. I've probably spun this the most out of all my records. I think from start to finish it's all bangers. It's really weird. It's like a weird dark circus. Every song on it is perfect. I think the guys voice is so distinctive, he's got a really kind of raspy kind of husky voice. You can't mistake it. Yeah, just a classic album," Lachlan says.
Break Even – The Bright Side
"This record just takes me back. One of the members committed suicide before this record was written, so most of the record is about that," Jeremy says. "'November 18th is a really hectic song about the old member that died. Being like a little 15 year old kid and just reading the lyrics, I was just like what the fuck?"