We caught up with singer Izzi Manfredi and bassist Thomas Champion of the Preatures to chat about their massive upcoming tour and pick through their (even bigger) vinyl collection.
Clearly intent on solidifying their reputation as one of the countries hardest working touring bands, Sydney rock and rollers The Preatures have just announced a 40-date national tour that will be hitting regional towns all over the country. And when they say regional, they mean regional – from the Divers Tavern in Broome to the Whalers in Warrnambool, they're coming for you.
The smaller venues and intimate crowds are undoubtedly going feel a little different to the stadiums they've been playing recently in support of former One Directioner Harry Styles, however, playing regional shows is evidently just as important to the band, who seem to be equally as excited as most of their fans surely are.
"Our eyes lit up when we saw the dates," Izzi says. "We've always wanted to do more regional stuff but we've never really had the time to factor it in with running overseas and all our other commitments which was a shame. To some people it looks daunting but to me it looks like it's gonna be awesome," Thomas adds.
Punters can expect to hear plenty of new material on the tour, which is in support of their fan-favourite tune 'Magick' from their acclaimed sophomore album Girlhood, with the group keen to unleash some jams fresh from the studio.
"I'm really excited to write songs for the live shows, because I think there's definitely a set dynamic and sound of The Preatures, and there's a character there we've got to honour. I'm excited about writing for that [character] on this record and then testing out the songs live," Izzi says.
Not only musically talented, the band announced their tour with some award-winning acting performances…
The Preatures Magic tour kicks off in June (tickets and info) and you can check out Izzi and Thomas's favourite wax pizzas below: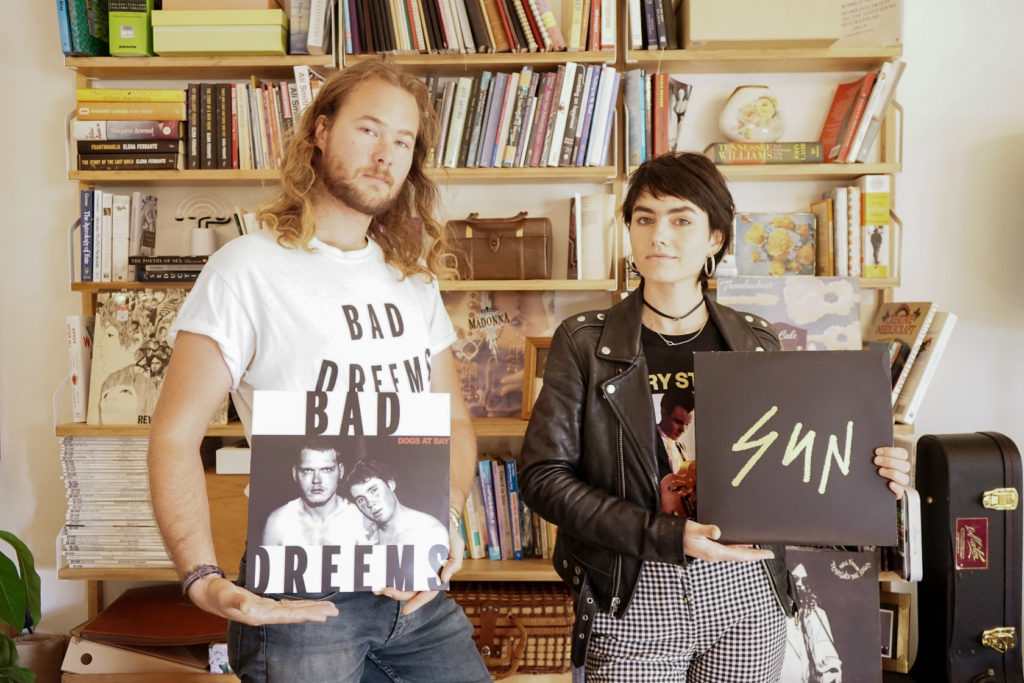 Bad Dreems – Dogs At Bay
"This is probably the only record that, for me, captures the strange anguish and confusion of being an angry young man. I was an angry young man once and figured it out but if this was around when I was an angry young man it would have happened a lot quicker," says Thomas. "I feel like in 20 years this will still be as good as it is now."

Cat Power – Sun
"Something about this record, for me, was so maternal. It feels like getting a big hug from an older woman who'd been through some shit. I feel like there are so many stories in this record… A lot of the themes I think are quite feminist and feminine, and very mystic and spiritual." Izzi says. "I thrashed this record. I thought it was absolutely beautiful and quite meditative."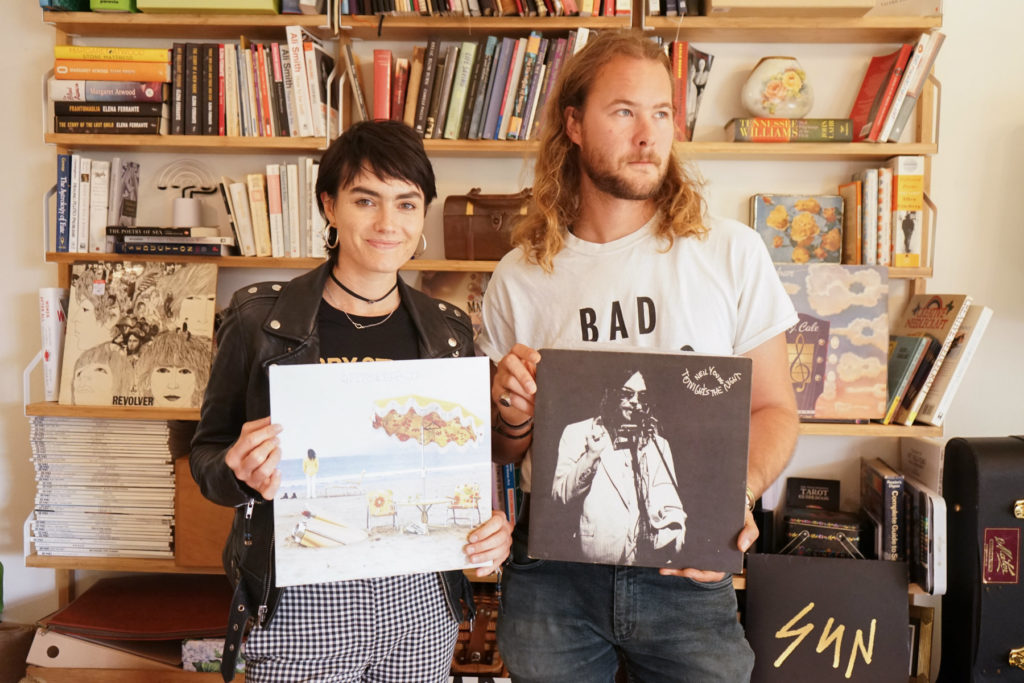 Neil Young – On The Beach
"After my parents broke up, the only time I would really see my dad was when he'd come and pick me up and we'd go driving, and he'd just play me music in the car. I remember when he played me this record we were driving to Bondi and 'See The Sky About To Rain' came on. It was one of those hazy Sydney evenings when there's a little sunshower at dusk, all the sky was pink and pastel blue and it was just beautiful. Just as the song came on we were driving down Syd Einfeld Drive and it started to rain. I've always remembered that," says Izzi.
Neil Young  – Tonight's The Night

"When I was in my early teens I bought my first little record player from Dick Smiths for like, $80 – it was a piece of crap – I dug this out of what was left of my parent's record collection. This copy has my mothers name, her maiden name and a seven-digit phone number. So that's how old it is," Thomas says.

"It sounds like it was recorded in a barn, like they were really drunk most of the time, which is what I love about it. It's a mess… It's not for everyone but it's my favourite. It's what you can do with a shit-hot band and a shit-hot songwriter if they were all super pissed and didn't really care about how it came across," says Thomas.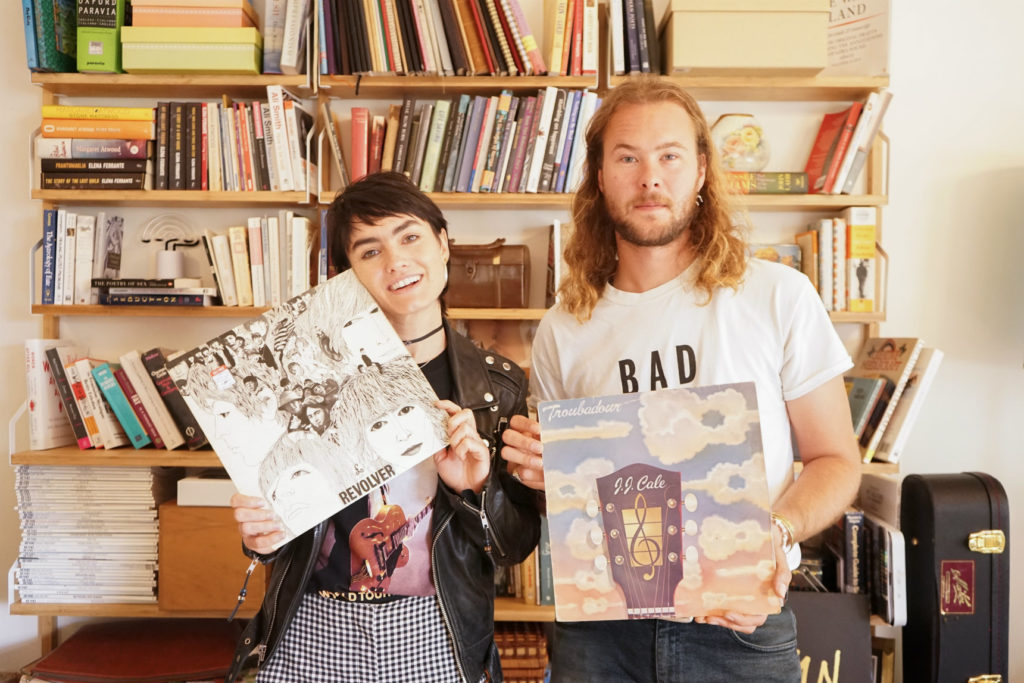 JJ Cale – Troubadour
My dad actually bought me this record, which was interesting because it was before I had my shitty Dick Smiths record player… This was one of those records that came into my life when Tonight's The Night did. I only had about 15 records that I listened to for two to three years straight. That's all I listened to," Thomas says. "JJ Cale was a bit of a pioneer in terms of guitar playing, he would pull apart his guitars and rebuild them with extra pickups and make crazy effects loops and stuff like that. A lot of it can be heard on here. It's so unique. He's a real tinkerer."
The Beatles – Revolver
"This is probably the rarest collectible thing that I own. It's an original pressed copy, made in the UK, 1966. It's just chock full of hits. George Harrison unfortunately only has one song on this album. Taxman, Good Day Sunshine… It's just a fucking great album. It's The Beatles. I get annoyed when people are like 'Beatles or The Rolling Stones'… Just have them both," Thomas says.
"How much do you reckon it would go for?" Izzi says.

"I paid $50 for it four years ago and it's in pretty good nick."
"$50?! I buy records for $50. Brand new.."
"It's first press! The sleeve's not in very good condition but… Don't put your fingers on the disk! (laughs)"
"It's also one of my favourite pieces of album artwork. I thought it was so cool, the photos collaged into a drawing, with their actual eyes. It's mid-60's so sort of beginning to experiment with the psychedelic stuff, but not full on," Thomas says. "I think Yellow Submarine came after-"
"I think Yellow Submarine's on this," says Izzi.
"No it's not… Oh, wait yes it is. (more laughs)"
——————————————————————————————————————————————————————————————-
It's easy to imagine these guys cracking each other and pumping out tunes in the van as they're heading around the country for the Magick Tour. Make sure you get yourslef along to it!