We caught up with singer Bec Callander and bass player Ally Gaven in the middle of their 'Alive' single tour to talk about licorice discs.
Keeping busy is the name of the game for Sydney punk/garage/rock outfit Rackett, it seems every weekend the girls are playing somewhere around the country – whether it be headlining at a pub up the road, on a festival bill or supporting huge bands such as The Growlers, Stonefield, Killing Heidi or The Darkness. And that's just in the past 18 months!
If you've caught a live show, you'll understand why the four-piece are in such hot demand. Consistently delivering electrifying sets where you can expect to see crazy costumes, captivating stage presence, sweaty punters and of course some punchy guitar-lead rock and roll. Though it's in its early stages, the girls are looking to push their performance even further creatively. "We're currently curating a high production live show… We're working on creating more of an interactive experience with the audience that combines art installation and live music," says Bec.
https://www.youtube.com/watch?v=aC46tqhb-GI
Constant evolution is important to the group, who have decided to take on new costumes and personas for each new tune they put out, with current single 'Alive' taking cues from 90's sci-fi in a future meets the past concept. Exciting things are also in the works for their next single too as they reincarnate their image again, though they aren't willing to give too much away. "The next song is called 'Space Cadet' so, you know, it's gonna be from another planet. From outer-space," Bec says.
I guess we'll have to wait and see. Catch Rackett on the remaining dates of the 'Alive' tour over the next month (tickets and info here) and check out the wax pizzas that they think are out of this world below: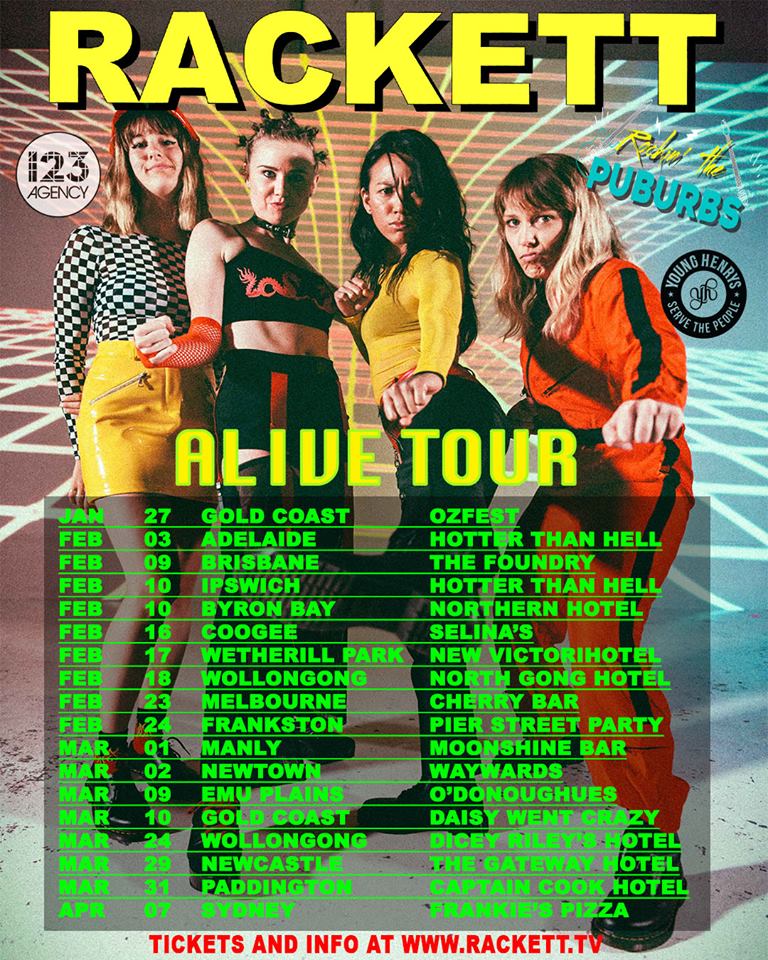 Marvin Gaye – What's Going On
"I'm obsessed with the bass player James Jameson. I get a lot of inspiration from his bass playing… When he was recording this record, he was so blind drunk that he had to lie down while recording all the bass parts… I cry a lot when I listen to this," Ally says.
The Police – Ghost In The Machine
"My father always played The Police. It's got 'Invisible Sun' and 'Rehumanize Yourself' – I love those songs. I really like how they use their guitar, there's a lot going on. I also like the content of the lyrics, I think it's deep and it speaks intentionally to communicate change. I feel like a lot of their songs demand we give more attention to change and that resonates with me," Bec says.

Tchaikovsky – Swan Lake
"I studied classical piano for 15 years and grew up loving classical music. Tchaikovsky hated the original scoring of this so much that he swore he was going to change the whole thing, but lucky for us, he never got around to doing it. It's so incredible but he completely hated this piece," Ally says.
Frank Zappa – Zoot Allures
"Fun fact: In 'Torture Never Stops,' Zappa recorded the sounds of an underage porno and used snippets of that in the 'Torture Never Stops' recording. He got found out and got arrested for it. So, naughty Zappa," Ally says.

Radiohead – In Rainbows
"I guess I grew up on this… It's an album that makes me feel every kind of emotion. Listening to the whole album you go through so many different feelings. You could be crying one minute, laughing the next. It's one of those albums where I completely lose myself emotionally which i don't get very often. I'm very picky with my albums and for some reason this one does it for me," Ally says.
The Kills – Midnight Boom
"All of these songs are awesome. I got into The Kills about four years ago when I was playing as Bec And Ben. I was playing drums and we very much were trying to rip off The Kills, without much luck. Their songwriting is so sassy and simple and effective. It's hard to find that simplicity without it being too naked and this is really full and gutsy, but with such little parts. They're definitely still a band that I listen to to get inspired to write songs," Bec says.